We're here 'til midnight®

We're here 'til midnight®

Traditional vs. Tankless Water Heater
Want to learn the differences?
The benefits of switching to a state-of-the-art tankless water heater system are endless. Whether you're trying to save space, conserve energy or extend your supply of hot water, a Rinnai tankless water heater can help you.
Designed for efficiency, Rinnai's Tankless systems save your family money on utility bills by meeting ENERGY STAR qualifications. It could also increase the value of your home by improving your Home Energy Rating System (HERS) index.
Rinnai also gives you different options when it comes to sizes, saving space in your home unlike traditional hot water heaters. With Rinnai there is no need to replace the system when it goes down, you just replace parts.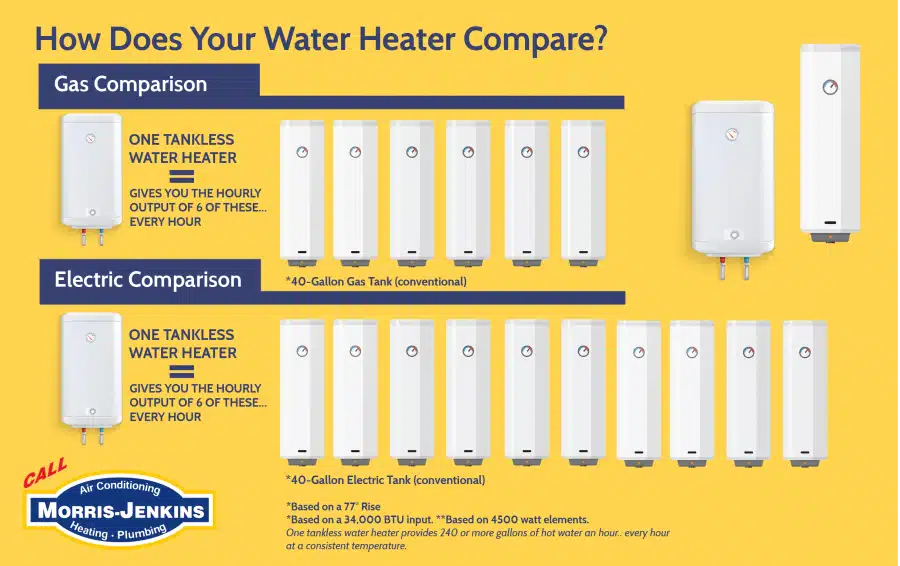 I had Morris Jenkins install a tankless water heater when my old heater broke. Jim was very informative and polite with the sale and he was great with my dog and kids which is always a plus. From my first contact to the install took two days which was amazing, they had better prices than anyone else we talked to and much better customer service. Justin and CJ did the install. They were extremely professional and left the area cleaner than it was beforehand. Everything looks and works great.
John Ghant
The guys were friendly, very professional and answered all of our questions during the installation of our tankless hot water system. Having never owned a tankless system, we had many questions and they were always helpful with their answers. We are now happy and enjoying our long hot showers!
Chris Whitaker
Say "Goodbye!" to cold showers in the morning or rushing to be the first in the shower. With a new tankless water heater, you're no longer limited to the standard 40 gallons of hot water. The possibilities are truly endless!
A better fit for your home
The Morris-Jenkins story starts in 1958 when Luther Morris started with a pick-up truck, a tool shed and a simple philosophy: do what's right by the customer.
As his business grew, he became known for sales and installations of quality air conditioning and heating systems. Always innovative and pioneering, Luther installed the first gas pack in the region. Gas packs now account for more than 20% of all residential systems in the market.
He grew the business to 12 employees and developed a reputation for honesty and quality before deciding to retire and sell the business to Dewey Jenkins in 1990.
Mr. Jenkins changed the name to Morris-Jenkins and began an emphasis on service that continues to this day. But he did more. He established the company's core values, with which we still begin every meeting: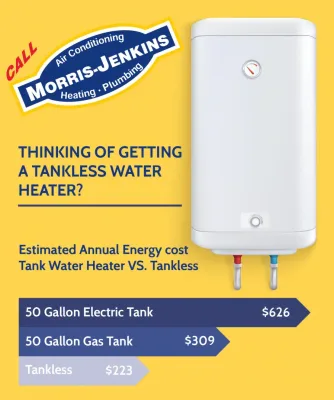 Honesty
Integrity
Fairness
Respect
He then added this philosophy which is central to our way of doing business: Make it easy for our customers to do business with us.
That's why we changed our hours and became the first air conditioning, heating and plumbing company to offer weekend and evening service at no additional charge. We wanted to make it easy for our customers.
And as customers' needs have changed, Morris-Jenkins has responded – always making it easy for our customers to do business with us.
That's the reason we offer:
Quick service—even on the busiest of days. We do everything we can to get to you the same day you call.
Easy-to-understand, personable technicians. Seriously, we have rules against them using technical mumbo jumbo.
Priority service for our VIPs. Enjoy cutting lines? We let you do just that if you're a Member of our Priority Advantage© maintenance program.
Courteous and friendly staff, from top to bottom. What can we say? We take after Mr. Jenkins, himself.
Today, Morris-Jenkins is the largest provider of air conditioning, heating and plumbing services in the region and one of the largest in the nation. But we haven't outgrown our small town beginnings.
We still provide service one customer at a time. One technician to your home, making every effort to ensure that your system provides safe and efficient heating and air conditioning. And every time you call, you get a live, local person who is concerned about your needs.
Thank you for taking time to read our story. We look forward to getting to know you and serve you.
A new tankless unit is roughly the size of a carry-on suitcase. This means it can be installed in a variety of less traditional spaces without taking up space in your laundry room or hall closet.
Installed indoors or outdoors, a tankless heater is more like a fly on the wall instead of an elephant in the room.
These units can last up to two times longer than traditional tank units. Unlike their tank counterparts, tankless units have the advantage of replaceable parts. If a tank heater has a parts failure, you would be stuck with buying a whole new system!