We're here 'til midnight®

We're here 'til midnight®

Traditional vs. Tankless Water Heater
Want to learn the differences?
The benefits of switching to a state-of-the-art tankless water heater system are endless. Whether you're trying to save space, conserve energy or extend your supply of hot water, a Rinnai tankless water heater can help you.
Designed for efficiency, Rinnai's Tankless systems save your family money on utility bills by meeting ENERGY STAR qualifications. It could also increase the value of your home by improving your Home Energy Rating System (HERS) index.
Rinnai also gives you different options when it comes to sizes, saving space in your home unlike traditional hot water heaters. With Rinnai there is no need to replace the system when it goes down, you just replace parts.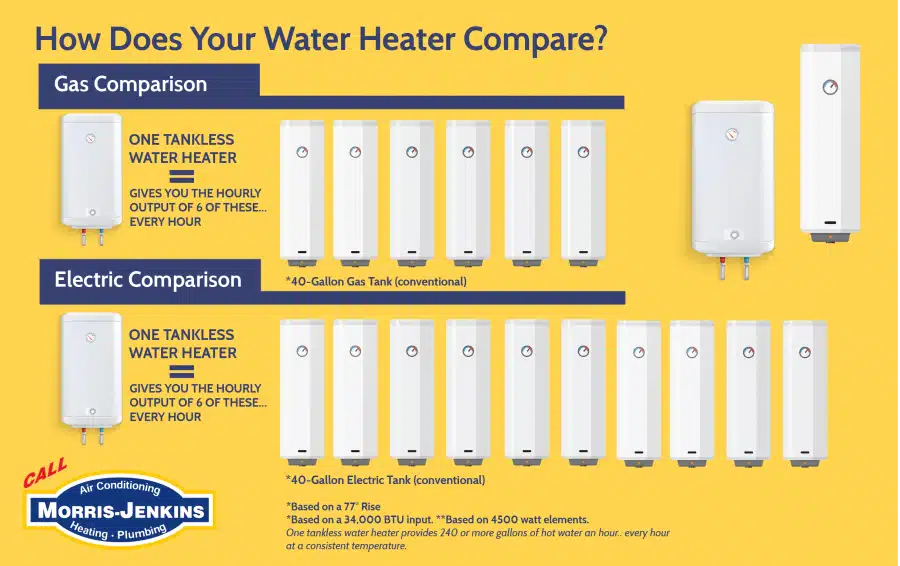 I had Morris Jenkins install a tankless water heater when my old heater broke. Jim was very informative and polite with the sale and he was great with my dog and kids which is always a plus. From my first contact to the install took two days which was amazing, they had better prices than anyone else we talked to and much better customer service. Justin and CJ did the install. They were extremely professional and left the area cleaner than it was beforehand. Everything looks and works great.
John Ghant
The guys were friendly, very professional and answered all of our questions during the installation of our tankless hot water system. Having never owned a tankless system, we had many questions and they were always helpful with their answers. We are now happy and enjoying our long hot showers!
Chris Whitaker
Say "Goodbye!" to cold showers in the morning or rushing to be the first in the shower. With a new tankless water heater, you're no longer limited to the standard 40 gallons of hot water. The possibilities are truly endless!
A better fit for your home
A new tankless unit is roughly the size of a carry-on suitcase. This means it can be installed in a variety of less traditional spaces without taking up space in your laundry room or hall closet.
Installed indoors or outdoors, a tankless heater is more like a fly on the wall instead of an elephant in the room.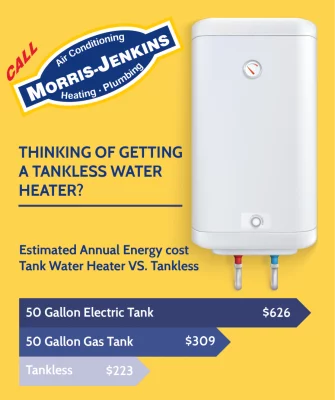 These units can last up to two times longer than traditional tank units. Unlike their tank counterparts, tankless units have the advantage of replaceable parts. If a tank heater has a parts failure, you would be stuck with buying a whole new system!