We're here till midnight!

Schedule your Appointment
We're here till midnight!

Payment Plans for Your HVAC & Plumbing Needs
Payment Plans Make It Easy to Take Care of Your Home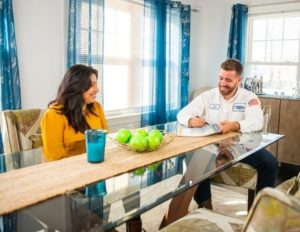 You can't always plan for big things like a new HVAC unit or new pipes. Sometimes, things break at what seems like the worst possible time. That doesn't mean your home shouldn't get the help it needs! That's why Morris-Jenkins is proud to offer financing options. We partner with multiple financing companies to make sure you have options to make your home comfortable again as soon as possible.
Making improvements to your home shouldn't be stressful. With the help of our financing options, even something as big as a new HVAC unit turns into something easy and manageable with smaller monthly payments.
Call or text us today, and one of our Residential Specialists can talk to you about payment plan options that sound right for your family!
Morris-Jenkins has been working for Charlotte since 1958.
That is 58 years of honesty, fairness, integrity, and respect. It isn't any wonder why we have won many Charlotte Observer and Creative Loafing reader's choice awards when we take the best care of OUR customers…
…and help those who have had work done the WRONG way by other HVAC companies.
We offer payment plans through:
Ally
Piedmont Natural Gas
PSNC Energy
Service Finance
Contact Us to Learn More!

Ready for convenient service?