Need A Garbage Disposal Repaired?
You Googled "garbage disposal repairs near me" and BOOM! There we were.
Chances are, if you were doing that kind of research, your garbage disposal is already showing signs of damage, and you need professional help. Not sure if you need garbage disposal repairs? Here are some common warning signs that something has gone wrong:
Your garbage disposal is making weird noises. Does your garbage disposal hum, grind, or rattle? It might be jammed or the blades might be misaligned.
Your garbage disposal is leaking. Leaks under your kitchen sink could either be caused by pipes or by your garbage disposal.
Your kitchen sink keeps clogging. If your garbage disposal gets clogged with even small things, it might not be the best capacity for your sink, or something might be going bad with the device itself.
Your kitchen sink has a bad odor. If your garbage disposal isn't properly cutting up scraps, rotting food will build up in your sink drain, and this can even attract pests!
Your garbage disposal won't even turn on. If your garbage disposal has the electrical connections it needs but it still isn't turning on, it might have a bad motor instead.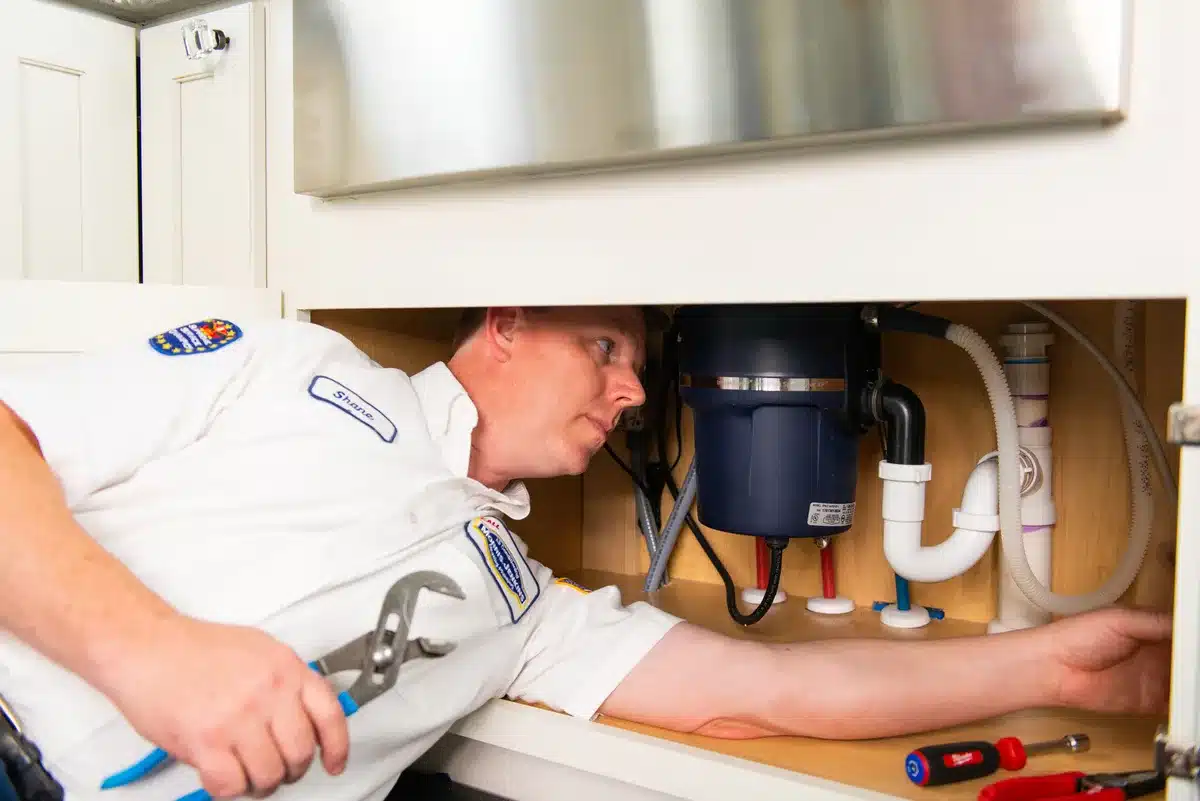 We know these problems can be annoying. They make it difficult to get anything done in the kitchen! When your garbage disposal is giving you trouble, we're only a call away!
Common Garbage Disposal Problems
While it's never fun to have problems with your garbage disposal, sometimes things just start to wear down. Certain issues are more common than others for garbage disposals, such as:
Foreign materials like glass or metal that can cause the disposal to jam or fail.
Rust within the unit that can cause the motor to fail (it seizes in place).
Rust that can cause the disposal to leak into the cabinet below.
Fortunately, our plumbers are familiar with all these problems and more! When you call us out, your plumber will carefully inspect your unit to determine the exact cause of your problems. Then, with your permission, we can get to work on any repairs needed to get your disposal back to the daily grind!
How to Prevent Garbage Disposal Damage
Your garbage disposal is great at making food scraps disappear, but did you know there are certain food items that should never go down your disposal?
Never put these down the drain:
Eggshells
Stringy vegetables
Coffee grounds
Bones
Nuts
In order to do everything you can to prevent your garbage disposal from breaking, it's best that you don't put any of these things down it, and try to never overload it. If you have a full plate of food, you should scrape most of it into the trash before washing it off so you don't risk clogging up your disposal.
No one likes having to reach into their kitchen sink drain to pull out slimy bits of gunk! If your drains are clogged or your garbage disposal isn't doing its job, give us a call. We're here til midnight and we've got the answer!
When your home's garbage disposal is making weird noises, getting clogged, leaking, or just not working, we're here to help! Our plumbers are available every day of the week (even weekends) til midnight. That means you can schedule repairs when it's convenient for YOU! And don't worry—there's no extra cost for weekend or evening service.
Not only is it easy to find a time that works for you, but we even offer same day service. If you're in a rush to get your garbage disposal fixed (who wouldn't be?), we can almost always get out to you the same day you call!
When you're ready to schedule service, you can call or text us at 704-357-0484, or message us online. Our contact center is staffed with real Carolina locals like yourself! Mr. Jenkins Told Me… you've never met a friendlier bunch of people!
All of our plumbing services include:
We keep our trucks fully stocked, so we can fix your garbage disposal right then and there—no need to schedule another appointment.
Flat-rate, upfront pricing.
You'll always know the price of your garbage disposal repair before any work begins.
Late-night and weekend availability.
We're here 'til midnight and available on weekends, too.
Ready for convenient service?