It's time to retire that old faucet! Whether it's been leaking and dripping or it's just not your style, we can install your replacement faucet today.
Common Reasons to Replace a Faucet
Sometimes, you're just ready for a new look. Other times, your faucet needs to be replaced because there's a problem with your old one. If you've been spending your free time Googling things like, "faucet installations near me" or "when to replace a faucet," that's a pretty clear sign it's time to talk to a pro.
We might be able to repair your old faucet, but sometimes it'll save you time, money, and stress to just go ahead and install a new faucet instead. Some of the common faucet problems we see are:
High water pressure in sink
Low water pressure in sink. Quick tip: You might be able to fix this yourself! Try taking off your faucet's aerator to see if it's clogged. It's the small piece on the end of your faucet. If you don't see it or if it's too hard to remove, give us a call!
Dripping faucet; leaking faucet. Not only if this problem annoying, but it wastes water and can get expensive faster than you think!
Low pressure in faucet
High pressure in faucet or faucet is spraying water all over
Wet spots under the sink, Sometimes, this is because your faucet isn't secured properly.
The drain stopper (pop-up) is stuck
Wiggle or loose faucet handles
Stuck or stubborn kitchen sprayer. Quick tip: Check the cabinet under the sink to make sure your sprayer hose isn't caught on a bottle or something!
Kitchen sprayer won't turn off
These are only SOME of the problems we get calls for. You'd be amazed how many ways a faucet can break! If you're dealing with anything we listed or even something we didn't, we're the ones to call. Our plumbers have seen it ALL!
When you call (or text) us for an appointment, we'll send out a faucet expert. If you want to see about repairs first, they can take a close look at your old faucet to see what can be done. They'll give you all the info you need to make an educated decision on a repair vs a replacement. In the end, the choice is still yours. After all, you know your home best!
If you aren't looking for a repair, that's alright! We'll still send that faucet expert out and they can get straight to installing whatever faucet you pick out (whether you bought it yourself or from us).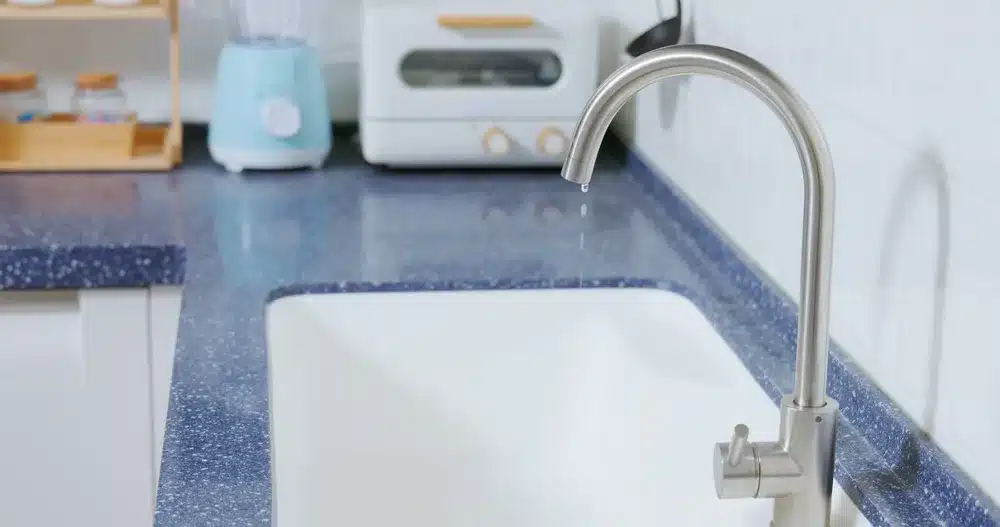 The Faucet You Want – Installed TODAY!
Our professional plumbers LOVE installing shiny new faucets. Gooseneck, single-handle, pull-out, pull-down, two-handle, widespread… you name it! If you pinned the dream faucet on Pinterest and finally found it in the stores, we can make that dream come true. If you're not sure what you're looking for, that's ok too. We've got tons of great sinks in our warehouse! One of our plumbers can come out to your home and show you all the options that would work well for your home. Once you pick out the perfect one, we can get it installed the same day!
Thinking About DIY Faucet Installations? Don't Do It!
Plumbing is hard, but it doesn't need to be.
If you don't know what you're doing when you go to install a new faucet, you can cause some really messy damage to your sink. Even informational Youtube videos can only go so far—they don't know your exact plumbing situation and setup.
Don't risk messing up your plumbing, and don't risk water damage to your home! Our professional plumbers are around every day til midnight (even weekends and evenings at no extra cost). Whenever you're ready to have that new faucet put in, we'll be there usually the same day you call or text us.
Faucet Replacements Made Easy
When you call or text Morris-Jenkins, you'll reach a REAL person (and they're local, too!). They know what it's like to have plumbing problems, and they'll make sure this whole process is super easy for you.
Too many plumbing companies out there keep you waiting forever for an appointment. You could wait a week, two weeks, even MORE. You deserve better than that! We're proud to offer same day or next day plumbing appointments. If you call us out to install a new faucet, we can come out and talk to you about what you want out of your new faucet. We'll show you some great options, and we can usually get that faucet installed the same day. No repeat visits!
Not only do we make the appointment itself super easy, but it's easy to schedule with us too. Whether you prefer to call, text, or schedule online, we have options for you. And we won't keep you on hold for ages like some other companies. We're here and we're ready to answer your questions!
Schedule your faucet replacement now!
All of our plumbing services include:
Even on the busiest of days, we get there fast to make it easy for you.
Late-night and weekend service.
We're here 'til midnight and available on weekends, too.
When you call, you'll always speak to live, local employees (who could very well be your neighbor).
Ready for convenient service?