Drain Cabling Services in Charlotte
Slow Drain? Don't Wait Til It Becomes an Even Bigger Issue!
All of our drain cabling services include: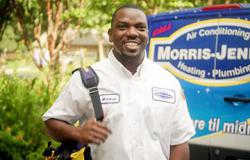 We keep our trucks fully stocked, so we can cable your drain right then and there—no need to schedule another appointment.
Flat-rate, upfront pricing.
You'll always know the price of your drain cabling before any work begins.
Late-night and weekend availability.
We're here 'til midnight and available on weekends, too.
Don't Wait Til It Becomes an Even Bigger Issue!
STOP! Don't try to fix that clogged drain yourself! Many DIY methods of unclogging drains can actually make the damage worse.
The chemicals advertised on TV and sold in hardware and home improvement stores are harsh. They can even cause severe corrosion issues.
It may seem easy, but unclogging an obstructed drain isn't as simple as you may think. If your drain is severely clogged, you need professional assistance.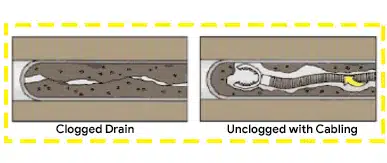 Morris-Jenkins plumbers have the tools and equipment to fix your problem the RIGHT way, without causing damage to other parts of your home's plumbing.
We'll unclog up to 75 feet! *With proper access **Does not include storm drains
Take advantage of our Drain Cabling Special for just $77. A Morris-Jenkins Plumber will get you unclogged and make sure your water's flowing in the right direction. A slow drain can become a leaking pipe pretty quickly, so don't wait until your problem gets even bigger! Schedule your appointment today!
Ready for convenient service?