Toilet Repair Plumbers in Belmont, NC
When your toilet stops working, it can be a major problem. After all, not many people have an outhouse they can use while waiting for the toilet to get fixed. You might be knocking on your neighbor's door to borrow their bathroom. But when you've got toilet problems, you can always count on Morris-Jenkins. We're your neighbors and we happen to LOVE fixing toilets. All of our toilet repair services include: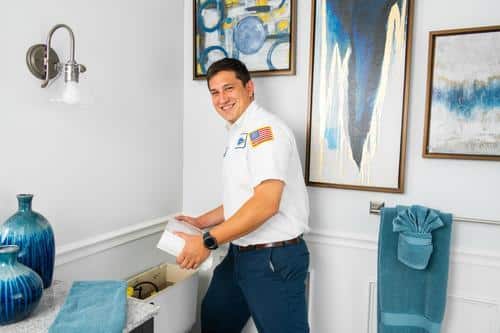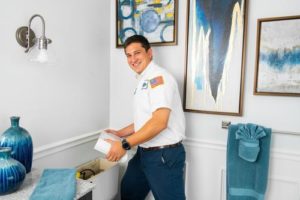 We keep our trucks fully stocked, so we can repair your toilet then and there—no need to schedule another appointment.
Flat-rate, upfront pricing.
You'll always know the price of your toilet repair before any work begins.
Late-night and weekend availability.
We're here 'til midnight and available on weekends, too.
Common Toilet Problems
DIY Solutions
We Make it Easy
Common Toilet Problems
What's Wrong With Your Toilet?
Once you've been a plumber for a while, there isn't much that can surprise you anymore. We've seen just about all there is to see when it comes to toilet problems. We'll be able to tell right away what the problem is and get it fixed. Here are some of the problems we come across the most when we're out doing residential toilet repairs:
A Clogged Toilet
We've seen toilets get clogged by just about anything, from wads of paper towels to bath toys. Sometimes, the problem isn't even your fault. We can unclog any toilet. Just don't pour clog removing liquids like Drano down the toilet! It can damage your pipes.
A Running Toilet
If your toilet keeps running after you flush it, we can fix that in a hurry. A running toilet can be caused by lots of different things like a faulty refill tube, a broken float ball, or a worn-out flapper. After a quick look, we'll know what the issue is and we'll give you an upfront quote for the work.
A Toilet Leak
Leaks can be a big mess, but they're not always a sign of a major issue. Sometimes you might just have some loose plumbing connections or a small toilet part that needs to be replaced. If you're seeing water leaking from a crack in the bowl or tank, however, you'll need a new toilet.
DIY Solutions
We Make it Easy
Ready for convenient service?