Expert Furnace Tune-Up & Maintenance in Clover, NC
Furnace Tune-Ups in Clover
Just like your car and your home, your furnace is an investment. Wouldn't you wanna do everything possible to make it last longer? The best thing you can do for your unit is keep up with seasonal maintenance. In fact, it may even be required every year to keep your furnace's warranty valid for the life of the unit.
All of our furnace maintenance services include: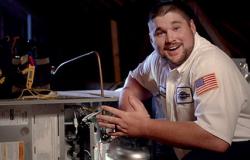 FREE smoke alarm battery change
100% money-back guarantee
Why Morris-Jenkins
Furnace Maintenance Options
We Make It Easy!
Experienced Technicians
Why Morris-Jenkins
Why Choose Us?
Furnaces are designed to rapidly heat your house. They produce warm air and then circulate it via a fan-driven blower system.  
Your furnace includes several different safety features to prevent disasters like gas leaks. When you call Morris-Jenkins for help, we always make sure to go through the entire checklist during your furnace System Renovation to ensure all of your safety features are functioning correctly.  
This process not only keeps your family safe but allows your furnace to run more efficiently, saving you money on your monthly utility bills. 
System Renovation vs. Furnace Tune-Up
We don't cut corners. We take the time to do things the right way, even though it's not the easy way. Your family deserves the best care!
If you just wanna go for our more basic maintenance option, that's fine. However, when you get a System Renovation, you get a top-to-bottom furnace maintenance service that leaves your system like new.
Working 10 Hour Days? We've Got You
Too busy during the week and need a weekend appointment? What about evenings? You can call us! We're here for you every day til midnight!
Furnace Maintenance Options
We Make It Easy!
Experienced Technicians
Priority Advantage© Membership
Evaporator Coiled Airflow Adjustment
Contactor and capacitor test
Bi-annual maintenance visits
Ready for convenient service?