Heat Pump Services in Clover
Choose a Heat Pump Service
Need a heating furnace repaired? We make it easy.
Here's something we hear a lot: When you were building your house a few years ago, you did your research. You found out that heat pumps are the cheapest way to heat your house because they use heat that's already in the air to warm up the house. But after having your heat pump installed, you forgot about it. Out of sight, out of mind! Now, you're looking at your energy bills and wondering what happened to those nice, low utilities. It might be that you've forgotten about heat pump maintenance. That's okay! You've got a lot on your plate. But we can get your heat pump back up to speed with our heat pump tune-up services in Clover. There's no reason why you shouldn't have lower utility bills. All of our furnace repairs include: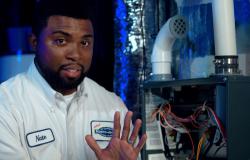 We keep our trucks fully stocked, so we can repair your heat pump right then and there—no need to schedule another appointment.
Flat-rate, upfront pricing.
You'll always know the price of your heat pump repair before any work begins.
Late-night and weekend availability.
We're here 'til midnight and available on weekends, too.
What is It?
How it works
Education
Why Choose Us
What is It?
What's a Tune-Up?
You've probably lost count of how many times you've driven your car to go get an oil change. You do it because missing a couple of oil changes could be a death sentence for your car. Heat pumps are similar. When they run for months or years without maintenance or adjustments, you could be looking at some major repairs.
A tune-up is just that: having your heat pump checked, tightened, adjusted, and cleaned so it can keep running smoothly. Plus, you don't have to get it done every month! Usually, once a year for your heating system and once for your cooling system is enough.
How it works
Education
Why Choose Us
Priority Advantage© Membership
Evaporator Coiled Airflow Adjustment
Contactor and capacitor test
Bi-annual maintenance visits
Ready for convenient service?