Water Line Repair Services in Clover, NC
Need your Water Line Repaired?
Water line problems are a bummer. But at Morris-Jenkins, we make plumbing repairs so easy and pain-free that even bigger repairs won't be nearly as overwhelming. With friendly plumbers who can brighten up your day and problems that are fixed fast, you won't have to worry when your water line starts to leak. We'll take care of it! All of our water line repair services include: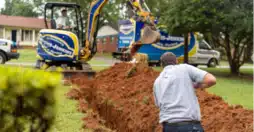 We keep our trucks fully stocked, so we can repair your water line then and there—no need to schedule another appointment.
Flat-rate, upfront pricing.
You'll always know the price of your water line repair before any work begins.
Late-night and weekend availability.
We're here 'til midnight and available on weekends, too.
Signs You Need This
What to Expect
Why Morris-Jenkins
Signs You Need This
When to Call Us for a Water Line Repair
Water leaks can be sneaky, but if you know what to look for, you can catch them right away. You can stay ahead of plumbing problems and get them fixed quickly by watching for some of these signs:
Spiking Utility Bills: Leaks can show up on your water bill or your electrical bill. It all depends on whether you're on city water or well water. Any change in your utilities is worth checking out.
Unexplained Wet Spots in the Yard: Sometimes wet spots in the yard can just be from rainy weather or an overenthusiastic sprinkler. But if one spot is wet and soggy and there aren't any other answers, you might have water leaking from a pipe into the yard.
Water Stains Inside: If a pipe is leaking inside, you'll see signs eventually. You might notice wet spots on the walls or ceiling or find a warm, damp spot on the carpet. That's a sign you should call right away before the damage gets worse.
What to Expect
Why Morris-Jenkins
Ready for convenient service?