Water Line Repair in Cornelius, NC
Need your Water Line Repaired?
Water line problems can make a mess. They can be unexpected and they cause a lot of water damage in a short amount of time. We know you never wake up hoping to have to deal with plumbing problems. But with the right plumber to take care of your water line, you can get through your repairs without all of the stress. At Morris-Jenkins, we're the type of plumber that you'll look forward to calling. We'll put your mind at ease, we'll get there right away, and we'll have the problem fixed fast so you can get back to your day. All of our water line repair services include: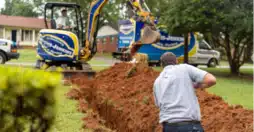 We keep our trucks fully stocked, so we can repair your water line then and there—no need to schedule another appointment.
Flat-rate, upfront pricing.
You'll always know the price of your water line repair before any work begins.
Late-night and weekend availability.
We're here 'til midnight and available on weekends, too.
Signs of a Broken Water Line
What to Expect
Why Morris-Jenkins
Signs of a Broken Water Line
Water Line Problems? We can Fix It!
At Morris-Jenkins, there isn't a problem we can't fix when it comes to your water line. Sometimes your plumbing can spring a small leak while other problems can be a little bigger. And while we can handle both, calling for repairs before small leaks become bigger ones can save you a lot of stress.
We always recommend keeping an eye on your plumbing, your utilities, your ceilings, your carpets, and your yard. Leaks will usually show up in one of these places. If there are any changes in water pressure, wet spots in the house or in the yard, or a sudden big rise in your electrical bills (for homes with wells) or water bills (for homes on city water), it's time to call for water line repairs.
What to Expect
Why Morris-Jenkins
Ready for convenient service?