Air Conditioning Repair Company in Denver, NC
Choose an Air Conditioning Service
Need an air conditioner repaired? We make it easy.
Scheduling is a cinch with us. We're always gonna work with your schedule, so whether you're free on a Tuesday morning or a Sunday evening, we've got your back. We've got flat-rate prices so it's easy to plan for repairs. We also make it easy to talk to us. Everyone is trained to not use all the technical jargon that you might hear from other techs. Taking care of your own AC shouldn't be confusing, and you don't need 30 years of experience working for an AC repair company to be able to make good decisions for your system. You just need someone to give you the facts. No matter who you talk to, you're gonna get courteous, friendly, and straightforward service.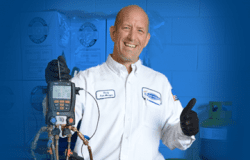 We keep our trucks fully stocked, so we can repair your AC right then and there—no need to schedule another appointment.
Flat-rate, upfront pricing.
You'll always know the price of your AC repair before any work begins.
Late-night and weekend availability.
We're here 'til midnight and available on weekends, too.
Signs You Need AC Repair
How It Works
Priority Advantage®
Brands
Signs You Need AC Repair
When to Call Us for Repairs
When you're working, keeping your house clean, exercising, and trying to eat healthier, that doesn't leave a lot of time for thinking about the funny sound your AC has started making. But that sound could be your air conditioner's way of warning you about a problem. You could wait until the sound turns into a breakdown. But more likely you'll wanna get it fixed now before it gets to that point.
Calling us right away could prevent major breakdowns. It could even keep you from having to replace your AC for a few more years. We know it can be hard to remember when you've got a lot of other things on your mind. But you don't even have to call if you don't have the time. You can just send us a quick text when you think about it and get that repair on your schedule.
How It Works
Priority Advantage®
Brands
Ready for convenient service?