Furnace Tune-Up & Maintenance in Denver, NC
Help your furnace live longer and run better
Is it fall in Denver, NC? Then it's time for your annual furnace tune-up! You might be used to forgetting about your furnace until it needs a repair. But getting your furnace maintained every year with Morris-Jenkins is gonna make a big difference. Furnace maintenance is a breeze when you go with us, so there's no reason to put it off! All of our furnace maintenance services include: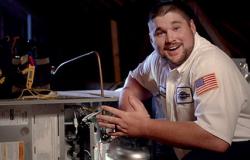 FREE smoke alarm battery change
100% money-back guarantee
Signs You Need This
How It Works
Priority Advantage®
Why Choose Us
Signs You Need This
Why We Love Furnace Maintenance
Just like a car, your furnace stays in better condition when it's running every day. During the summer months when it's just sitting there, it can start to go bad. The combination of summer humidity plus a lack of motion can make your system go downhill fast. Don't turn on your pilot light this winter! Instead, let our technicians at Morris-Jenkins check your system and then turn it on themselves.
We don't just love furnace tune-ups because they keep us busy during the fall. We also love them because they make owning a furnace a whole lot easier for you. If you're used to running your furnace until it breaks down, you'll know that repairs can be pricey. But with annual furnace maintenance, most repairs aren't gonna be as big of a deal.
A furnace that hasn't been maintained is gonna be working a lot harder than one that has a tune-up every year. That's because a lot of dirt, dust, and other debris is gonna collect on the important parts of your system. Cleaning off the gunk can make your system way more efficient.
How It Works
Priority Advantage®
Why Choose Us
Priority Advantage© Membership
Evaporator Coiled Airflow Adjustment
Contactor and capacitor test
Bi-annual maintenance visits
Ready for convenient service?