AC Tune Up Service Technicians in Fort Mill, NC
Choose an Air Conditioner Service
Help your AC live longer and run better
Summer in Fort Mill can be a little hard to get through. It's hot and sticky all day, every day. You might be dreaming of the days when you can wear your favorite hoodie again. And you may be tired of ordering the same iced coffee every morning to try to give you a little relief from the heat. Our AC tune-ups can make your air conditioner work so well that you'll have to wear your hoodie inside even when the plants are wilting from the heat just a couple of feet away outside your front door.

All of our AC maintenance services include: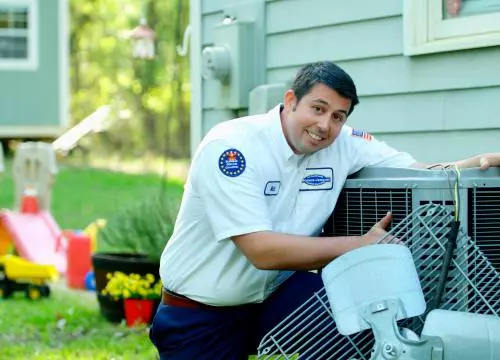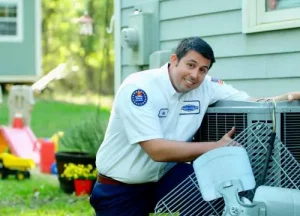 FREE smoke alarm battery change
100% money-back guarantee
Priority Advantage© Membership
Evaporator Coiled Airflow Adjustment
Contactor and capacitor test
Bi-annual maintenance visits
Do You Need a Tune-Up?
Why Choose Morris-Jenkins
Locally Owned Company
Do You Need a Tune-Up?
Does Your AC Need a Tune-Up?
So, your AC works pretty well. It's not leaking refrigerant everywhere and it's not blowing out hot air. Sometimes it makes a funny noise and it runs for a long time without shutting off, but it's fine! Right? Well, we agree that it's probably not a danger to your family and it can probably cool off your home eventually. But how much money are you spending on energy every month? And how soon is it gonna be before that funny noise turns into a total breakdown?
There's nothing wrong with being careful about where you spend your money. Lots of companies out there are trying to make their services sound better than they are. But at Morris-Jenkins if we offer a service, it's because we truly believe it makes a difference. If you schedule a tune-up for your AC every year, you won't have to worry about it breaking down on the hottest day of the summer. You can also count on it lasting longer overall. If you haven't had AC service in a while, you may even start to notice your bills creeping up every month. We think it's worth it to pay a little now so you can save a lot later!
Why Choose Morris-Jenkins
Locally Owned Company
Ready for convenient service?