Furnace Tune-Up in Fort Mill, NC
Furnace Tune-Ups in Fort Mill
Have you googled "furnace tune-up near me?" Morris-Jenkins provides annual furnace tune-up services throughout Fort Mill and surrounding cities. Our furnace maintenance can help extend your heating unit's life by making sure everything is looking good for the winter and nothing is at risk of failing.

All of our furnace maintenance services include: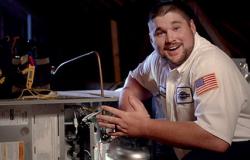 FREE smoke alarm battery change
100% money-back guarantee
Why Morris-Jenkins
Furnace Maintenance Options
We Make It Easy!
Experienced Technicians
Why Morris-Jenkins
Why Choose Morris-Jenkins?
The purpose of your furnace is to keep your family warm and comfortable throughout the coldest months. While it's important to make sure your furnace is working correctly, it's also important to make sure it is working safely. A furnace is essentially a controlled fire burning inside your house. You wanna make sure nothing is wrong with your unit because it can lead to serious hazards like fires or carbon monoxide leaks.
Morris-Jenkins is committed to keeping your family safe, which is why we offer an even better version of what you expect of a standard furnace tune-up. Our system renovation really is the way to go!
What Is a System Renovation?
The Morris-Jenkins system renovation is an extended version of the standard furnace tune-up. The focus is on keeping your heating unit operating safely and smoothly. This includes:
Checking the refrigerant levels
Testing the electrical components
Clearing the unit of dust and debris
Flushing the drain line
With a Morris-Jenkins system renovation, our technicians will examine your heating unit from top to bottom, making sure everything is as it should be for your furnace to run safely. When you choose to schedule a system renovation, you can rest assured that your home is in great hands!
Furnace Maintenance Options
We Make It Easy!
Experienced Technicians
Priority Advantage© Membership
Evaporator Coiled Airflow Adjustment
Contactor and capacitor test
Bi-annual maintenance visits
Ready for convenient service?