Water Line Repair Services in Fort Mill
Need your Water Line Repaired?
Even if you're the type of person who likes surprises, you probably don't like waking up to find that your water line has a surprise leak. You can't always predict when your water line is gonna start giving you trouble. But you can keep our number handy and give us a call as soon as you think there might be a leak. At Morris-Jenkins, we make our water line repairs in Fort Mill easy as can be. After a short phone call, we'll be on our way over! We're faster than the other guys and we'll make sure you get the repairs you need the first time. All of our water line repair services include: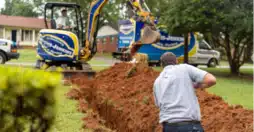 We keep our trucks fully stocked, so we can repair your water line then and there—no need to schedule another appointment.
Flat-rate, upfront pricing.
You'll always know the price of your water line repair before any work begins.
Late-night and weekend availability.
We're here 'til midnight and available on weekends, too.
Signs of a Broken Water Line
What to Expect
Why Morris-Jenkins
Signs of a Broken Water Line
When Should You Call Morris-Jenkins for Repairs?
At Morris-Jenkins, we're always happy to hear from you. But we get it if plumbing repairs aren't something you look forward to taking care of. One of our tips for making water line repairs as easy as possible is to stay on top of them. It's usually less of a hassle to take care of a small leak than fixing something that's gotten out of control.
Finding leaks when they're small means watching for the smallest signs of a problem. If there aren't any obvious signs of a leak like big puddles of water under the sink, the first place to check might be your water bill. If you haven't used a lot of water and rates haven't gone up but your bill seems higher, you can have us come check for a leak.
Sometimes the leak can happen outside in the yard. In this case, you might find a section of your lawn that's thriving more than the rest, or you might find a soggy spot. Inside the house, watch out for bad odors that smell moldy, mildewy, or musty. Look for stains on your walls, mold, or water damage.
What to Expect
Why Morris-Jenkins
Ready for convenient service?