AC Tune-Up Service Techs in Harrisburg, NC
Choose an Air Conditioner Service
Help your AC live longer and run better
Your AC just needs a little TLC now and again. You don't have to take your air conditioner on vacation to Aruba or serve it platters full of fresh fruit and chocolate. All you have to do is schedule a maintenance appointment every year to keep it from breaking down at the worst possible time. At Morris-Jenkins, we offer AC tune-up services in Harrisburg for every HVAC system.

All of our AC maintenance services include: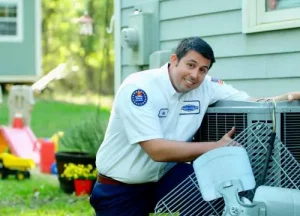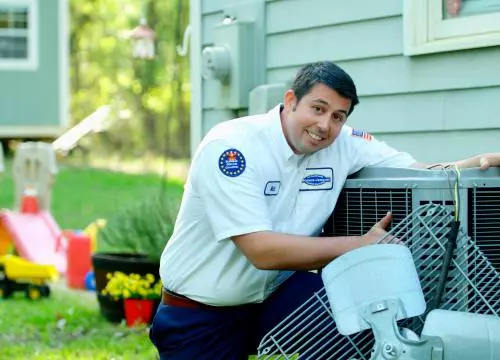 FREE smoke alarm battery change
100% money-back guarantee
Signs You Need This
What's In a Tune-Up
Why Morris-Jenkins?
Signs You Need This
Does My AC Need a Tune-Up?
Your AC might not be something you think about all the time. Once you set it to the right temperature, you might not have a reason to unless it breaks down. But we've repaired and replaced a lot of air conditioners, so we know that the ones that last the longest are the ones that've had tune-ups!
It might be tempting to let your AC just keep chugging along. Time can go by fast and before you know it, it's been more than a year since you last got it looked at. Unless your air conditioner is old, you probably won't notice the consequences right away. But over time, parts will wear down faster without proper care, and small issues will go unresolved until they turn into bigger problems. Unless you've got more luck than a leprechaun, it won't be long before something breaks and you'll be needing an emergency repair.
We don't want you to have to pay for lots of expensive repairs just to have to replace your AC early anyways. We'd rather you have to pay less and have less trouble. That's why we recommend AC maintenance. When everything is working well, you'll have fewer breakdowns, your utilities will cost less, and your AC will last a lot longer.
What's In a Tune-Up
Why Morris-Jenkins?
Priority Advantage© Membership
Evaporator Coiled Airflow Adjustment
Contactor and capacitor test
Bi-annual maintenance visits
Ready for convenient service?