Furnace Tune-Up & Maintenance in Harrisburg, NC
Help your furnace live longer and run better
All of our furnace maintenance services include: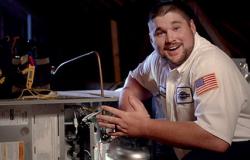 FREE smoke alarm battery change
100% money-back guarantee
Why Morris-Jenkins?
Is a Tune-Up Needed?
We Make it Easy
Why Morris-Jenkins?
What's a Tune-Up Anyways?
If you're new to this whole home ownership thing, or even if you're not, maybe you've never heard of a furnace tune-up. You may just think of your HVAC tech as someone you call when your heater vents start blowing out cold air instead of hot. This is totally fine, but many people don't know you can call your tech when your furnace is working too (and it can be a really good idea!).
Our $89 Safety Check is similar to a check-up with your doctor. It's something you can schedule every year just to make sure things are on track. While your doctor may check your heart, reflexes, and blood pressure, your HVAC tech will check your heater's filter, pilot light, burner, and more. Wanna make sure your furnace gets that extra something that makes it run like new? You're looking for our System Renovation! We'll check everything and clean your unit right up.
Our Priority Advantage Membership includes all of that plus repair discounts, reduced diagnostic costs, free drain cabling appointments, and more. It's really the best thing you can do for your furnace and AC!
Haven't studied up on HVAC lingo? That's okay! Not many people have, but we'll take you through the process using terms that you understand.
Is a Tune-Up Needed?
We Make it Easy
Priority Advantage© Membership
Evaporator Coiled Airflow Adjustment
Contactor and capacitor test
Bi-annual maintenance visits
Ready for convenient service?