Water Line Repair Company in Harrisburg, NC
Need your Water Line Repaired?
At Morris-Jenkins, we know water lines backward and forward. And we know they can spring a leak at the worst times (but we know there's never a GOOD time for plumbing problems). Luckily, you're in the right place! When you call us for water line repair in Harrisburg, we'll find the leak and fix it right away so you can get right back to your day. Water line leaks can be inconvenient, but plumbing services never should be. All of our water line repair services include: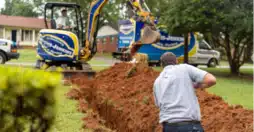 We keep our trucks fully stocked, so we can repair your water line then and there—no need to schedule another appointment.
Flat-rate, upfront pricing.
You'll always know the price of your water line repair before any work begins.
Late-night and weekend availability.
We're here 'til midnight and available on weekends, too.
Signs of a Broken Water Line
What to Expect
Why Morris-Jenkins
Signs of a Broken Water Line
Is it Time for Water Line Repairs?
When it comes to plumbing problems, it's good to be on the safe side and have something checked out if you think there might be a problem. Little issues could always turn into something bigger and messier.
We recommend calling if you start noticing a change in your water pressure or your water bills. These can be the first signs of an issue. You might also hear water running or dripping when the taps are all off or see signs of moisture in the house or yard. Call us if you find mold, water spots, or lush areas in the lawn.
When Do You Need a Water Line Replacement Instead?
We love when we get to come to your home and tell you that it's just a tiny little problem that we can fix in just a few minutes. But unfortunately, sometimes the problem is bigger.
If you're getting orange or rust-colored water instead of clear water, you might have corrosion in your pipes. One little section can be fixed, but if it's the whole water line, it'll need to be replaced. Any pipes that are old enough to need repairs all the time should also probably be replaced. We don't want you to have to deal with plumbing problems every month but that can sometimes happen when things get old and worn out.
What to Expect
Why Morris-Jenkins
Ready for convenient service?