Heat Pump Tune-Up & Maintenance in Huntersville, NC
Choose a Heat Pump Repair, Install or Tune-Up Service
Heat Pump Tune-Up in Huntersville
There's nothing better than a heat pump you can rely on. But if you wanna make sure you have consistent heat throughout the cold season, you should add a heat pump tune-up to your to-do list. Fortunately, this is the easiest thing to check off! Just schedule your service with Morris-Jenkins, and we'll take care of all the fine details.

All of our heat pump maintenance services include: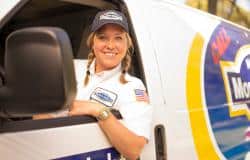 FREE smoke alarm battery change
100% money-back guarantee
Why Morris-Jenkins
Heat Pump Maintenance Options
We Make It Easy
You're Gonna Love These People
Why Morris-Jenkins
A Better Heat Pump Tune-Up

We know firsthand how hard it can be to find heating services that give your family the best care possible, and without the wait. You shouldn't have to fight or gamble to get a warm house in the winter, and with our help, you won't have to. 
You don't need some big-name, faceless corporation to give you an eight-hour time window where someone may or may not arrive to inspect your heat pump. With us, you can schedule a time that works best for you. If that means we need to send someone over during the evening or on the weekends when you're off work, we can make that happen. All you have to do is ask! 
And contacting us is just as easy. You can call us at 704-357-0484, but these days sometimes you don't wanna talk on the phone– we get that. If that's the case, just shoot us a quick text! If you want, you can also contact us through our website's chatbox. Whatever gets you the service you need!
Heat Pump Maintenance Options
We Make It Easy
You're Gonna Love These People
Priority Advantage© Membership
Evaporator Coiled Airflow Adjustment
Contactor and capacitor test
Bi-annual maintenance visits
Ready for convenient service?