Residential Water Line Repair in Huntersville, NC
Need your Water Line Repaired?
A water line problem isn't one of those things you can shrug off and hope it gets better over time. Once there's a leak, it's not going away by itself. At Morris-Jenkins, we're always around to fix a leaky pipe, diagnose a problem with your water pressure, or even replace all your piping.

Since we know that plumbing problems can be a major pain, we'll do what we can to make this easy. If you have a water line problem, just give us a call and we'll have it fixed in no time. All of our water line repair services include: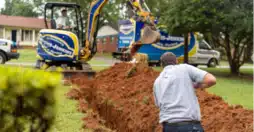 We keep our trucks fully stocked, so we can repair your water line then and there—no need to schedule another appointment.
Flat-rate, upfront pricing.
You'll always know the price of your water line repair before any work begins.
Late-night and weekend availability.
We're here 'til midnight and available on weekends, too.
Signs of a Broken Water Line
What to Expect
Why Morris-Jenkins
Signs of a Broken Water Line
A Few Water Leak Signs to Watch For
Water leaks can sometimes be as quiet as a toddler getting into their mom's makeup. They're not always gonna announce themselves and you might not notice anything until they leave a mess. With our help, you'll know what to look for to catch these leaks before they can cause a bunch of damage to your home.
Pay close attention to your water pressure. If your water pressure is low when you're running the hot water, it might be something else besides your water line, like a water heater problem. But if the pressure is low even when you're running cold water, there might be a leak.
You can also check your water meter for signs of a leak. If you're losing water somewhere, your water meter will show water usage even when the taps are off. If you're using a lot of water because of a leak, you'll also see it on either your water or energy bill.
Choosing Between Water Line Repairs and Replacements
Once you've seen signs of a leak, you'll need a plumber to come out and see where it is. Your Morris-Jenkins plumber can find right where your leak is so we can fix it without digging up the whole yard or taking out all your drywall. Once we diagnose the problem, we'll explain it to you with all the details you need to understand what's going on.
Sometimes the leak isn't a big deal. In that case, we'll recommend repairing the problem and then give you a quote. But other times, you might find us recommending a replacement instead. Because we care about you and we wanna provide friendly and neighborly services, we'll only recommend big projects if you actually need them.
What to Expect
Why Morris-Jenkins
Ready for convenient service?