Tankless Water Heater Services in Kannapolis
Choose a Tankless Water Heater Service
Need a tankless water heater installed? We make it easy.
What is one thing you wish you could change about your water heater? It is the amount you have to pay on your utility bills every month? Maybe it's the fact that you always run out of hot water halfway through your shower? Whatever the problem is in your home, there's a good chance that installing a tankless water heater will help solve it. At Morris-Jenkins, we've got people on our team who know a thing or two about tankless water heaters. Not only are we great at installing these systems, but we're also good at helping you find the right water heater for your home. We're not gonna recommend a tankless system just because we love them. Although that's true, we're more interested in helping your home to be comfortable and efficient.
All of our tankless water heater installations include: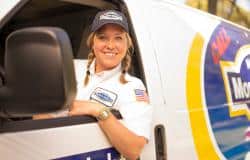 We don't charge to tell you how much we're going to charge.
Flat-rate, upfront pricing.
No sticker shock here. You'll always know what you're going to pay before the installation begins. 
Courteous and friendly staff
From top to bottom. What can we say? We take after Mr. Jenkins himself.
Should You Go Tankless?
Gas vs. Electric
Education
Why Choose Us?
Should You Go Tankless?
What Are the Pros and Cons of Tankless Water Heaters?
Tankless water heaters are a good choice for lots of different situations. Knowing some of the pros and cons can help when you're trying to make a decision. Here's the list we go through when we're helping families decide on a tankless water heater upgrade:
Pros:
Tankless water heaters need less energy to run. After all, they don't store hot water.
They're small and can be installed almost anywhere: under a sink, on the wall, outside the home, or on a patio.
They keep heating water as long as you need them to. You can run a hot bath and do the dishes right afterward without worrying about not having hot water.
They last about 20 years (twice as long as a tank water heater.)
Cons:
They have a higher upfront cost than a tank water heater
They can't keep up with too big of a load. Most systems can't produce consistent hot water when the laundry machine, dishwasher, and shower are all running at the same time.
Too hard to decide? We get it, and we're here to help. We have lots of advice to help you pick and we love coming up with solutions that are perfect for you.
Gas vs. Electric
Education
Why Choose Us?
Ready for convenient service?