AC Maintenance Service Pros in Marvin, NC
Choose an Air Conditioner Service
Help your AC live longer and run better
We love what we do here at Morris-Jenkins. It feels good to be able to help Marvin families with their cooling needs. Summer can get hot, so stay on top of AC repairs by getting your AC looked at. You can call, text, or message us online anytime (we're open til midnight) and we'll get you scheduled right away!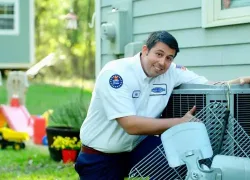 FREE smoke alarm battery change
100% money-back guarantee
Time to Tune-Up
Do I Need This?
Education
Why Choose Us
Time to Tune-Up
AC Maintenance in Marvin
If you've finally found your dream home in Marvin, you've probably got a lot on your plate to keep your house in perfect condition. Scheduling an appointment for an AC that's not even giving you trouble may be pretty low on the list. And we get that. Sometimes it's a whole lot easier to just get your AC fixed when it breaks down and forget about it the rest of the time.
But at Morris-Jenkins, we've gotta say that there are some downsides to taking the "fix it when it's broken" route. For one, it's gonna cost you more in the long run. By the time your AC actually breaks down, there's probably something major wrong with it. If that doesn't sound like your cup of tea, then we've got maintenance services to keep your AC chugging away this summer.
Do I Need This?
Education
Why Choose Us
Priority Advantage© Membership
Evaporator Coiled Airflow Adjustment
Contactor and capacitor test
Bi-annual maintenance visits
Ready for convenient service?