Furnace Tune-Up & Maintenance in Marvin, NC
Help your furnace live longer and run better
There's a lot that needs to happen inside your furnace for you to get the warm air you need. There's a gas line, electricity, and mechanical parts. You can imagine how much can go wrong if you leave it to itself for too long. Maybe annual furnace maintenance isn't something that's crossed your mind before. That makes sense because you only use it a few months out of the year. But forgetting to take care of your furnace could cause it to break down right when you need it most. At Morris-Jenkins, we'll make sure that doesn't happen with our furnace tune-up services in Marvin. All of our furnace maintenance services include: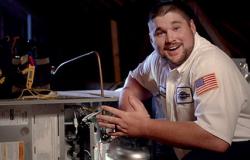 FREE smoke alarm battery change
100% money-back guarantee
Signs You Need This
How It Works
Priority Advantage®
Why Choose Us
Signs You Need This
When Should You Get Furnace Maintenance?
If you've made it so far without a furnace tune-up, you might not know whether you wanna bother having it looked at. We get that! But since we work on furnaces every day, we've gotten to see first-hand how much easier annual furnace maintenance can make things.
If you get a heater tune-up every year, you're gonna notice how much better your furnace runs. You're not gonna have to call for emergency repairs every year because you'll catch all the small problems before winter even starts, and before they can turn into big problems. You might even notice how much more comfortable you are, even on the coldest days. When you take care of your furnace, it takes care of you by working a lot more efficiently. Another great bonus is that you'll be saving energy, too!
How It Works
Priority Advantage®
Why Choose Us
Priority Advantage© Membership
Evaporator Coiled Airflow Adjustment
Contactor and capacitor test
Bi-annual maintenance visits
Ready for convenient service?