Air Conditioning Repair Company in Matthews, NC
Choose an Air Conditioner Service
Need an air conditioner repaired? We make it easy.
At Morris-Jenkins, we want you to have a comfortable home where you can put up your feet. We know that even when you buy the best AC on the market, if you don't take care of it, it's not gonna do a good job of cooling your home. Our tune-ups in Matthews are a good way to make sure your AC keeps blowing out icy cold air for years to come.

All of our AC repairs include: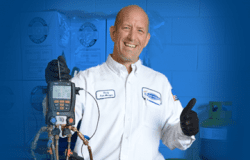 We keep our trucks fully stocked, so we can repair your AC right then and there—no need to schedule another appointment.
Flat-rate, upfront pricing.
You'll always know the price of your AC repair before any work begins.
Late-night and weekend availability.
We're here 'til midnight and available on weekends, too.
How it works
Do you need a repair?
Why Morris-Jenkins?
How it works
What's an AC Tune-Up?
While a repair is something that you schedule when your AC is having problems, a tune-up is something you want on the schedule every year no matter what. It's a way to check for problems early so they don't get worse. AC maintenance helps keep problems from happening by cleaning and adjusting the unit.
At Morris-Jenkins, we offer a couple of different ways to get this done. If you want something basic, you can choose our $89 Check'n'Wash. You'll get a top to bottom visual inspection that'll give you peace of mind for the next summer. While we're there, we'll also clean your outside coils. After all, that's where the magic is!
Want something more thorough? We also offer a System Renovation. This $129 service has everything the Check'n'Wash has, but we really get our hands into the unit to check everything and make sure it's running like new.
The best care we offer for air conditioners in Matthews is our Priority Advantage Membership. It'll take care of your heater and plumbing, too. It starts at only $19.99 per month and comes with lots of benefits. Do you like being first in line? You'll always get priority services. Biannual maintenance is included for your whole HVAC system, and you'll even get free drain cabling services. There are a few other perks, too, like discounted repairs and access to our online portal.
Do you need a repair?
Why Morris-Jenkins?
Ready for convenient service?