Furnace Tune-Up & Maintenance Company in Matthews
Choose a Furnace Repair, Install or Maintenance Service
Help your furnace live longer and run better
If you've mostly stuck to calling us when your furnace breaks down and you've never considered a tune-up, you're not alone! Lots of people go this route and it works just fine. However, it can also be pretty stressful not knowing when and if your furnace is gonna break down. Tune-ups can be a way to avoid the stress of an unreliable furnace, and it saves you a little money.
All of our furnace tune-ups services include: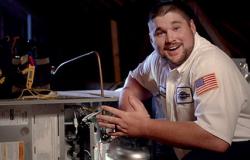 FREE smoke alarm battery change
100% money-back guarantee
What is a Furnace Tune-Up?
When is a Tune-Up Needed?
Why Morris-Jenkins?
What is a Furnace Tune-Up?
What Is a Tune-Up?
If you own a home, you already know there are ups and downs to taking care of it. There are a lot of surprises, and they aren't all good. A tune-up is a way you can keep from getting too many surprises with your furnace. There are a couple of different things we'll do depending on what service you choose. With an $89 Safety Check, we'll look at your whole furnace for anything that's getting worn out or broken. With a System Renovation, we go a step further and adjust anything that's not quite right. We'll also clean the furnace and give it a quick filter change if you've got some new filters handy. Our Priority Advantage Membership is another way to get all of these services, but you'll get two maintenance visits per year and discounts on diagnostic charges and repairs.
After every appointment, a tech from Morris-Jenkins will give you a report on your furnace that's in words normal people use– not techy jargon. Your heater will get a clean bill of health for the winter (or we can help get it to that point), and you can trust that it'll keep your house warm. Have any questions in the meantime? Shoot us a text or call any time before midnight to have a quick chat with us.
When is a Tune-Up Needed?
Why Morris-Jenkins?
Your Maintenance Options​
Priority Advantage© Membership
Evaporator Coiled Airflow Adjustment
Contactor and capacitor test
Bi-annual maintenance visits
Ready for convenient service?