Furnace Tune-Up & Maintenance Experts in Mint Hill
Help your furnace live longer and run better
A furnace tune-up is something that not every homeowner remembers to put on the schedule. We get it! They take up some of the time you could be using for other things and they might not seem like a very urgent home maintenance need. But furnace tune-ups are one of our favorite services that we offer at Morris-Jenkins. If you want your heater to work smoothly through the whole winter, think about scheduling furnace maintenance in Mint Hill today! All of our furnace maintenance services include: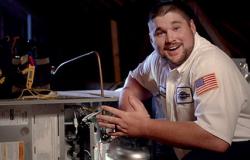 FREE smoke alarm battery change
100% money-back guarantee
Signs You Need This
How It Works
Priority Advantage®
Why Choose Us
Signs You Need This
We Love Furance Maintenance!
We're not making things up when we say we love furnace maintenance. We've seen it do a lot of good for families in Mint Hill when the winters get cold. Here are the top reasons we LOVE furnace maintenance!
1. Furnace Tune-Ups Save You Money
When you have a furnace, the main times you'll have to spend money on it are when you need repairs and when you need a replacement. Regular maintenance keeps you from needing as many big repairs, and it also helps you to put off replacement for longer. We love the fact that you'll be able to enjoy reliable heat without emergency repairs!
2. Furnace Tune-Ups Save Energy
Another thing we love is how much more efficient furnaces are when they're not running on worn-out parts. You'll get even better heating without the high energy bills.
3. Furnace Tune-Ups Keep You Cozy
A furnace that isn't working its best won't be able to keep your whole house comfortable. You might get cold spots or you might have to deal with a furnace that can't keep up with your thermostat settings. Tune-ups keep your house cozy all winter.
How It Works
Priority Advantage®
Why Choose Us
Priority Advantage© Membership
Evaporator Coiled Airflow Adjustment
Contactor and capacitor test
Bi-annual maintenance visits
Ready for convenient service?