Air Conditioning Tune-Up Monroe, NC
Choose an Air Conditioner Service
Help your AC live longer and run better
When you get a new AC, you start with the goal of taking good care of it so it keeps your family cool every summer for years and years. But sometimes life gets in the way. Years fly by and before you know it, your AC isn't working as well anymore. At Morris-Jenkins, we can help turn things around! We know how busy life can get for Monroe families, so we make getting AC tune-ups as easy as doing a load of laundry. Just make time for one little text or phone call, and we'll do the rest!

All of our AC maintenance services include: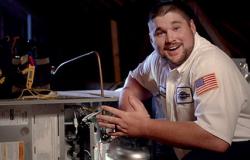 FREE smoke alarm battery change
100% money-back guarantee
Signs you need this
What's in a tune-up?
Why Morris-Jenkins?
Signs you need this
AC Tune-Ups at Morris-Jenkins
When someone says you need a tune-up for your AC, you might not even know exactly what that means. That's okay! An AC tune-up is like the check-ups you schedule with your doctor each year. It's a way to make sure your AC isn't gonna break down by checking it from top to bottom, doing a few adjustments, and changing the filter.
A Check'n'Wash is always a good place to start if you're new to the whole "AC maintenance" thing. It's the best $89 you'll spend all summer. We'll make sure there's nothing big going on with your AC. We'll wash off those outside coils (that's where the magic is!) and give it a clean bill of health. If there's anything that needs extra attention, we'll let you know.
Setting aside some money for spoiling your AC will always pay off. That's why we recommend our $129 System Renovation. It's like the Check'n'Wash, but instead of a visual inspection, your technician will get into the nitty gritty details of your air conditioner to make sure it's healthy. We're not only checking for concerns. We're also making adjustments so your AC runs like new.
Lots of families in Monroe wanna do more for their AC. That's why they're part of our Priority Advantage Membership. We treat everyone well here at Morris-Jenkins. But members get the best of everything! It starts at only $19.99 per month, but it pays for itself quickly. Any time you call for a repair, you'll get $40 off diagnostic fees and 10% off the whole repair. We also throw in biannual maintenance for your AC and heater. And we spoil you with some fun "members only" parties and giveaways!
What's in a tune-up?
Why Morris-Jenkins?
Priority Advantage© Membership
Evaporator Coiled Airflow Adjustment
Contactor and capacitor test
Bi-annual maintenance visits
Ready for convenient service?