Furnace Tune-Up & Maintenance Monroe, NC
Choose a Furnace Repair, Install or Maintenance Service
Help your furnace live longer and run better
You can make your home a comfy hideaway even on cold, rainy days if you take care of your furnace. Now, we aren't suggesting that you give it a name, buy it Christmas presents, and treat it like a member of your family, but it may mean having it looked at more often. You can schedule a tune-up whenever you like and our team here at Morris-Jenkins will take really good care of it.

All of our furnace maintenance services include: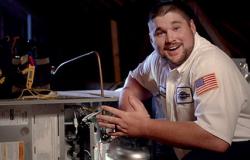 FREE smoke alarm battery change
100% money-back guarantee
Why Choose Morris-Jenkins?
What's Included
Do I Need a Tune-Up?
Why Choose Morris-Jenkins?
Why Choose Morris-Jenkins?
We know we aren't the only choice in Monroe for furnace maintenance. Some HVAC companies can be tempting to hire because they're cheap. But there's usually a reason they're the cheapest. Instead of cutting corners and taking shortcuts to make our prices lower, we focus on doing things right the first time. We want you to be able to trust us to do a good job.
Our care starts as soon as you call or send us a text, live chat, or email. We'll listen to you and get a feel for what you need. Then we'll let you know what we recommend for your furnace. Sometimes, everything looks great and doesn't need a thing! Other times, it might need a simple little repair to make sure it lasts the winter. Whatever the case, you can always trust us to tell you exactly what we think. We'll never sell you a service you don't need. That's not how we do things around here.
What's Included
Do I Need a Tune-Up?
Priority Advantage© Membership
Evaporator Coiled Airflow Adjustment
Contactor and capacitor test
Bi-annual maintenance visits
Ready for convenient service?