Heat Pump Tune-Up & Servicing in Mooresville, NC
Choose a Heat Pump Repair, Install or Maintenance Service
Heat Pump Tune-Ups in Mooresville
You don't wanna risk your heat pump breaking down this winter. A little seasonal maintenance goes a long way in keeping your system happy and healthy! Morris-Jenkins makes it easy to plan your maintenance. Give us a call to book yours any time!
All of our heat pump maintenance services include: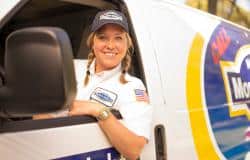 FREE smoke alarm battery change
100% money-back guarantee
Why Choose Morris Jenkins
Maintenance Options
You're Gonna Love These People!
We Make it Easy
Why Choose Morris Jenkins
Heat Pump Tune-Ups in Mooresville
You count on your heat pump to keep your family warm. Over the years, it can start to get worn down. Heat pumps that aren't taken care of wear down much faster than ones that get maintenance every year.
You might've tried searching the web for "heat pump tune-up near me," but only Morris-Jenkins offers the complete System Renovation designed to get your heat pump working like it's new again. 
System Renovations Bring You the Best Maintenance
You need a heat pump tune-up that truly prepares your system for a Mooresville winter. A System Renovation from Morris-Jenkins is the way to go!
Booking Your Heat Pump Tune-Up Made Easy
Why struggle to find a time that works with another company when Morris-Jenkins is ready to work around your schedule? You could schedule your tune-up during a weekend or evening, if that works better for you. And we won't charge you extra for it!
Maintenance Options
You're Gonna Love These People!
We Make it Easy
Priority Advantage© Membership
Evaporator Coiled Airflow Adjustment
Contactor and capacitor test
Bi-annual maintenance visits
Ready for convenient service?