Furnace Tune-Up Technicians in Mount Holly, NC
Help your furnace live longer and run better
While your furnace was probably safe the last time you turned it on last winter, it might not be as safe after a whole summer of sitting there doing nothing. A furnace tune-up with a safety check is exactly what your system needs to be safe for winter. So before you think about going and lighting your pilot light, stop and call your friends at Morris-Jenkins! We're happy to come, take a look at your furnace, and give it a thumbs-up for the next Mount Holly winter. All of our furnace maintenance services include: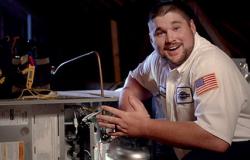 FREE smoke alarm battery change
100% money-back guarantee
Signs You Need This
How It Works
Priority Advantage®
Why Choose Us
Signs You Need This
Why Is Furnace Maintenance Right for You?
If you're planning on putting in a brand new furnace next week, there's not much point in scheduling an annual furnace maintenance appointment for your old system. But we recommend them for just about every other situation. That's because we know your system is gonna run so much better when it's cleaned, checked, and double-checked. You'll have lower energy bills, fewer repairs, and a lot more peace of mind.
How It Works
Priority Advantage®
Why Choose Us
Priority Advantage© Membership
Evaporator Coiled Airflow Adjustment
Contactor and capacitor test
Bi-annual maintenance visits
Ready for convenient service?