Your AC deserves some TLC
Schedule your Check'n'Wash
Keep your home cool for just $89!
Don't wait for your AC to break
You know how weather can be in the Carolinas. Spring is hot and comes with clouds of pollen. Summer is scorching and the humidity makes you feel sweaty ALL the time. Even the beginning of fall can be rough. The weather will fake you out with a couple nice days before BAM. More summer heat.  
Your air conditioner REALLY has its work cut out for it. It stays busy for months and months. Give it the care it needs to keep your family cool through all the sticky heat seasons.  
MORE than your regular safety check
For just $89, a Morris-Jenkins technician will make sure your AC can keep up with whatever weather the Carolinas throw at it. This means we'll check your freon, do a visual inspection of your unit, and wash your outside coils. That wash makes sure your AC can breathe better, which keeps your home cooler and your energy bills lower!
Your AC works hard every summer. Did you know it's even at risk of damage during the winter? Whether it's spring, the middle of summer, or early in the fall, it's never a bad time to schedule a Check'N'Wash for your air conditioner. 
When you call Morris-Jenkins for your $89 Check'n'Wash, you're making sure your family stays cool all summer long! Why risk a broken air conditioner? You deserve to feel comfortable in your own home.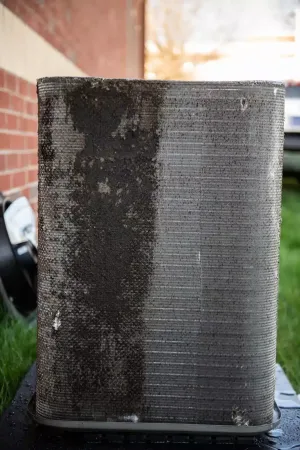 Do you ever feel burnt out from working too hard for too long? So does your AC!
FREE Battery Change for your smoke alarm
FREE filter change
100% Money Back Guarantee
Make AC Maintenance Easier Than Ever!
You've got enough on your plate without worrying about your air conditioner. Let us take care of that! Starting at just $19.99/month, you can have us take care of your cooling AND heating maintenance, and your clogged drains with a Priority Advantage® Membership. It's the best home maintenance package in the Carolinas, and it even comes with some extra fun perks like discounts on repairs, first-in-line service, and monthly giveaways!