Trusted Water Line Repair in Belmont, NC
Need your Water Line Repaired?
Your water line's something you don't have to think about very often. Your pipes are made to last a long time and aren't the type of thing that breaks down all the time if they're in good condition. But when water line problems do happen, they can be a major pain.

At Morris-Jenkins, we're here to take care of it. We know how fast a leak can get out of hand, so we're not gonna sit around and wait for that to happen! When you call us for water line repair services in Belmont, we'll be there faster than anyone. Often, that means we'll be there the same day you call. All of our water line repair services include: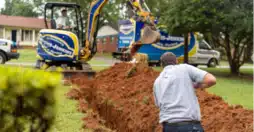 We keep our trucks fully stocked, so we can repair your water line then and there—no need to schedule another appointment.
Flat-rate, upfront pricing.
You'll always know the price of your water line repair before any work begins.
Late-night and weekend availability.
We're here 'til midnight and available on weekends, too.
Signs You Need This
What to Expect
Why Morris-Jenkins
Signs You Need This
Is It Time for a Water Line Repair?
We get that there's never a great time for your water line to spring a leak. But when you do have to call for repairs, you may start to notice a few signs. Water leaks show their hand eventually, as long as you know what to look for.
Sometimes you'll notice signs in your house. You might find water or moisture where it shouldn't be or see stains on the walls, ceiling, or floor. The leak could show itself outside first. You might find a spot in your lawn that's soggy or extra green. After all, your lawn likes all that extra water!
Leaks can sometimes even appear first on your water or energy bills. If you see a sudden spike in your utilities, get a plumber down to check your pipes!
What to Expect
Why Morris-Jenkins
Ready for convenient service?