Toilet Repair Service in Charlotte, NC
Every toilet gets clogged now and again. Usually, all you have to do is pull out your plunger and the problem is fixed in a jiffy. But if something is broken on the inside, it's gonna take a little more to get it working well again. Instead of trying to solve the problem by yourself, why not call Morris-Jenkins? We've already got everything we need to fix your toilet, and we can be there the same day you call. Plus, we're excited to help anyone who lives in Charlotte! It's our home town! All of our toilet repair services include: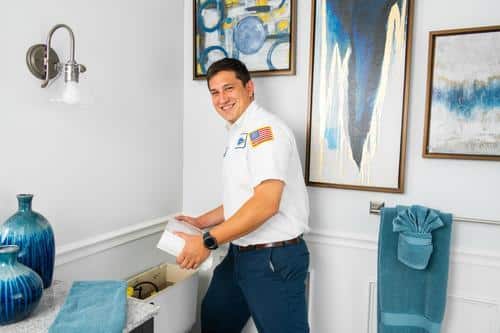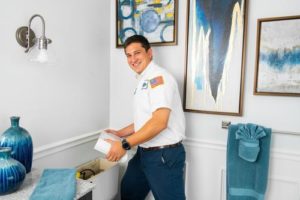 We keep our trucks fully stocked, so we can repair your toilet then and there—no need to schedule another appointment.
Flat-rate, upfront pricing.
You'll always know the price of your toilet repair before any work begins.
Late-night and weekend availability.
We're here 'til midnight and available on weekends, too.
Signs You Need This
Don't DIY!
Education
More Info
Special
Signs You Need This
Common Toilet Troubles
If you've ever looked under the lid of your toilet, you probably noticed how many fragile little parts all have to work together every time you flush. If you've had the same toilet for years, something's bound to go wrong eventually. Here are some common problems you might find.
Frequent Clogs: An overflowing toilet can make a big mess. Sometimes clogs like this are a one-time thing. Fix the clog, and you've fixed the problem. But what if it keeps happening? The issue is probably located a little deeper in your plumbing. We can take a look at your pipes and make sure there's nothing more serious going on.
Leaks: A leak in the tank means you need a new toilet. But leaks can come from lots of other places, too. If the leak is coming from the flush valve, flange, fill valve, or the plumbing, one of our plumbers can most likely fix it without having to install a new toilet.
Running Toilet: A running toilet can happen when the float is too high, your flapper is leaking, or there's a problem with the refill tube. These are all repairs that we can get done in just an hour or two.
If you're not familiar with all the jargon, that's okay. You don't need to be a toilet or plumbing expert to talk to us. We'll explain the problem to you clearly, give you a straightforward estimate, and then get on with the repair so you can get back to things you'd rather be doing.
Don't DIY!
Education
More Info
Special
Ready for convenient service?