Toilet Repair in Clover with Top Local Plumbing Repair Techs
Toilets aren't the kind of thing you chat about when you bump into your friend at the grocery store. They're always in the background just quietly making our lives better. When they finally do draw attention to themselves, it's usually because they're breaking down and causing problems. When your toilet needs repairs, we'd be happy to come and take care of the problem for you. Then you can get back to talking about more pleasant things like the weather or the most recent Panthers game. We do toilet repairs in Clover, and we'd love to get started helping your family out. All of our toilet repair services include: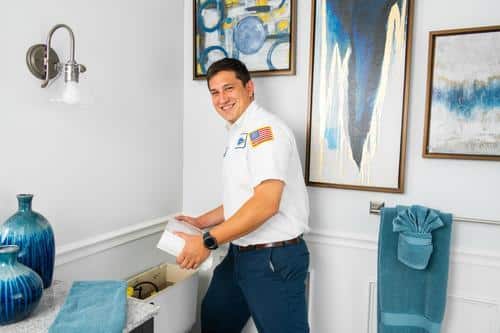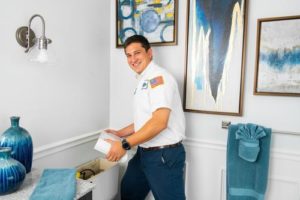 We keep our trucks fully stocked, so we can repair your toilet then and there—no need to schedule another appointment.
Flat-rate, upfront pricing.
You'll always know the price of your toilet repair before any work begins.
Late-night and weekend availability.
We're here 'til midnight and available on weekends, too.
Signs You Need This
Education
More Info
Special
Signs You Need This
When You Need Toilet Repairs, Call Morris-Jenkins!
Have you ever taken off the top of your toilet and had a peek inside? There were probably more parts than you even realized were a part of your toilet. Each of these little thingamajigs and doodads has a big job every time the toilet is flushed or needs to refill. When something gets worn out, you can end up with lots of problems. Here are some of the things that can go wrong:
Your Toilet Won't Stop Running
A running toilet is one of the most common problems. Sometimes things get a little stuck and you just have to wiggle the handle around to get it to stop running. But if it keeps happening, it's worth getting it checked out. After all, even if it just runs for a few minutes before you come and wiggle the handle, you're still wasting money.
Your Toilet Won't Refill
If your toilet isn't refilling, the problem could be with your toilet or with your water line. You can check to see if the shut-off valve isn't closed so you can make sure it's getting water. Otherwise, you might just need a new fill valve.
Your Toilet is Clogged
If your toilet is clogged and you're looking for toilet repairs in Clover, you've probably already tried a plunger. Plungers are great for most toilet clogs, but if the clog is from something besides waste or toilet paper, it's not gonna come out easily on its own. Sometimes, you need the help of a good plumber and a professional-grade snake to get rid of the clog. We offer drain cabling for just $77!
Your Toilet Leaks
Toilets can leak from the tank, the bowl, the base, the connections, the fill valve, and more. Sometimes you can fix a leak by replacing a part or tightening a connection. You'll need one of our plumbers to come and take a look at your toilet to see where the leak is coming from.
Your Toilet Wobbles
A wobbling toilet isn't something to ignore. The wobbling back and forth can cause things to come loose or break, so make sure to call for repairs as soon as you can.
You don't need to know all of the toilet jargon to get help. Just call your friends at Morris-Jenkins. We'll find the problem even if you don't know how to explain it.
Education
More Info
Special
Ready for convenient service?