Water Line Repair Company in Concord, NC
Need your Water Line Repaired?
If you've ever had a major leak in your water line, you'll know how quickly it can turn into a big, messy problem. Having water in your home is important, but you don't want it leaking into your walls or making your carpet a soggy mess. At Morris-Jenkins, we'll take care of your water lines. We always do the job right so you don't have to worry anymore about water leaks. As soon as your water line starts giving you trouble, give us a call. All of our water line repair services include: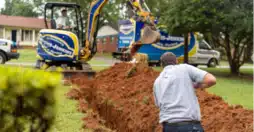 We keep our trucks fully stocked, so we can repair your water line then and there—no need to schedule another appointment.
Flat-rate, upfront pricing.
You'll always know the price of your water line repair before any work begins.
Late-night and weekend availability.
We're here 'til midnight and available on weekends, too.
Signs You Need This
What to Expect
Why Morris-Jenkins
Signs You Need This
Signs That You Need Water Line Repair
Your water line brings water to everything in your home, from your faucets to your fridge. But since a lot of the water line is behind the walls, you might not always spot a leak right away. If you suspect a leak, the first thing you should check is your water meter or your water bills. If there's a big increase from last month or if your water meter is ticking even if you're not using water, that's a red flag.
Another sign of water leaks in the house is the sound of dripping water inside your walls. You shouldn't hear any water sounds if all the appliances and taps are off. Brown stains and drip marks on the ceiling and walls or a bad musty odor are also signs there's something wrong with your water line.
We Make Water Line Repairs Easy!
When you notice signs of a water leak in your home or yard, the next step is to get in touch with us. It's easy with Morris-Jenkins! You can schedule appointments through our website, by calling, or even by text. A real local person on our end will get you everything you need–no machines or robotic responses.
Once you set up an appointment, you can count on the time that we set. We'll arrive in uniform and in our fully-stocked Morris-Jenkins trucks. We have everything we need for all types of water line repairs. We don't like being late or unprepared because that's a waste of your time.
Our plumbers are a straightforward bunch. They'll let you know what's wrong with your water line without all of the plumbing jargon you get with other companies. Then you'll get an upfront estimate on repairs so you know what to expect. With your say-so, we'll get started on repairs right away!
What to Expect
Why Morris-Jenkins
Ready for convenient service?