AC Maintenance Experts in Davidson, NC
Choose an Air Conditioner Service
Help your AC live longer and run better
You may have learned a hard lesson about oil changes when you were 16 and you ran your car's engine into the ground because you forgot to check the oil. But have you ever thought about the fact that your AC needs similar care? Seasonal system checks can keep your unit running well for years. Not to mention, it'll save you money in the long run. Maintenance is something we're really passionate about because we've seen the difference it can make!
All of our AC maintenance services include: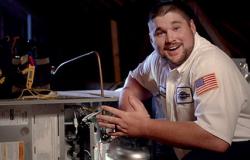 FREE smoke alarm battery change
100% money-back guarantee
What's a Tune-Up?
What Comes with a Tune-Up?
Why Choose Morris-Jenkins?
What's a Tune-Up?
When Does Your AC Need a Tune-Up?
How important is it to get an AC tune-up? Aren't repairs enough to keep it in good shape? At Morris-Jenkins, we can fix just about any problem, but that doesn't mean you should wait until something breaks. Some repairs can be really expensive, and a lot of those can be kept from happening by fixing smaller problems along the way. Usually, these problems are so small that you're not gonna notice them unless you have someone check for them.
Even if you're not running the risk of major breakdowns, you could also be paying more than you need to on your utility bills. So unless you get a kick out of throwing money away, you might wanna keep your AC up to date with its maintenance. Plus there are ways to waste money that are a lot more fun!
It's a good idea to have your AC checked at least once a year. A lot can happen in one summer to make things work less smoothly. We usually like to set up appointments before the seasons change so that you can have everything working well before it gets too hot.
What Comes with a Tune-Up?
Why Choose Morris-Jenkins?
Priority Advantage© Membership
Evaporator Coiled Airflow Adjustment
Contactor and capacitor test
Bi-annual maintenance visits
Ready for convenient service?