Furnace Maintenance & Tune-Up Davidson, NC
Help your furnace live longer and run better
At Morris-Jenkins, we might not have the sheet thing figured out yet, but we've got furnace maintenance down. We're here to take one more annoyance off your plate so you can focus on other things. Tune-ups are our way of making your furnace work better all year long, and they may even help you avoid those late-night calls. If you live in the Davidson area, we're excited to get you set up!
All of our furnace maintenance services include: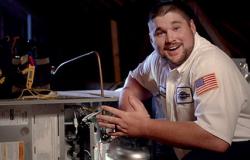 FREE smoke alarm battery change
100% money-back guarantee
What's Included?
Why Do I Need a Tune-Up?
Why Morris-Jenkins?
What's Included?
So What Is a Furnace Tune-Up?
Maybe you're familiar with furnace tune-ups, but if not, that's okay! It's pretty easy to explain. A tune-up is kind of like an oil change for your car, except with a few extra steps. Heaters have lots of moving parts that can stop working smoothly over time, and they can also get dirty, especially during the summer when they aren't being used. Our Safety Check is our most basic maintenance option, but you can also choose our System Renovation if you want us to clean the furnace, tighten screws, check your thermostat, and really get a close look at everything. 
Tune-ups can easily be done every year, and we make it easier than ever to keep up with! Just join Priority Advantage, starting at only $19.99 a month. Or you can just schedule your tune-up any time you feel like your furnace needs a little extra care. It's your furnace, after all, so you'll never get a guilt trip or pushy sales pitches from us. 
Why Do I Need a Tune-Up?
Why Morris-Jenkins?
Priority Advantage© Membership
Evaporator Coiled Airflow Adjustment
Contactor and capacitor test
Bi-annual maintenance visits
Ready for convenient service?