Water Line Repair in Davidson, NC
Need your Water Line Repaired?
Water is sneaky. It can make its way through the smallest of spaces and create major problems in your house, one drop at a time. When your water line starts leaking, it can help to have a plumber on your side who not only knows how to fix a leak but also knows how to make it easy for you. At Morris-Jenkins, we're friendly, local plumbers who care just as much about your plumbing as you do. When your water line springs a leak, you can call us and we'll come and fix the problem before the water has a chance to wreak havoc. All of our water line repair services include: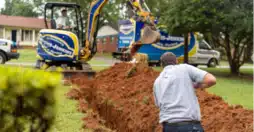 We keep our trucks fully stocked, so we can repair your water line then and there—no need to schedule another appointment.
Flat-rate, upfront pricing.
You'll always know the price of your water line repair before any work begins.
Late-night and weekend availability.
We're here 'til midnight and available on weekends, too.
Signs of a Broken Water Line
What to Expect
Why Morris-Jenkins
Signs of a Broken Water Line
When Should You Call for Water Line Repairs in Davidson?
It can be easy to spot a dripping faucet or a pipe that's leaking under the sink. But if there's a leak in the walls or your yard, it can take a long time to even notice a problem. That's why it's good to never ignore little signs that might point to water line problems.
If you're on city water, a leak can start to make your water bill a lot higher. You might notice a huge change from one month to the next and you might even get a call from your water company to let you know there's something off. If you have a well, you might see your energy bill change instead. Any time you are paying more than usual, there might be a leak behind it.
Spots in your yard that are extra lush or always seem to be wet might be a sign of a leak underground. Or you might find the leak inside. Listen for water sounds in the walls and look for any brown stains that can show up next to or below the piping.
Deciding Between Water Line Repair and Replacement
Once you notice a leak, the next step will be to find out where it's coming from and then get it fixed. Since leaks aren't always right where the water is, it might take a little sleuthing to find the location of the problem. That's where we come in! We can find where the leak is coming from and then repair it, all while you relax.
But, if we notice that your pipes are in pretty bad shape, there's a chance we might suggest going down another route. Repiping can be a good choice for piping that's starting to corrode since this can lead to frequent repairs and poor-quality water. We don't just come, repair the leak, and leave. We take a look at your pipes and give you all the information you need to take care of your plumbing.
What to Expect
Why Morris-Jenkins
Ready for convenient service?