Furnace Tune-Up & Maintenance Experts in Gastonia
Choose a Furnace Repair, Install or Maintenance Service
Furnace Tune-Ups in Gastonia
While furnace tune-ups are a popular maintenance option, we've got something even better (because your family deserves it). Instead of a run-of-the-mill tune-up, we've got what's called a system renovation. It's exactly what your furnace needs before the cold winter months ahead. And what's more—we can come out when it's convenient for YOU, not us.

All of our furnace maintenance services include: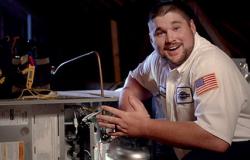 FREE smoke alarm battery change
100% money-back guarantee
Why Morris-Jenkins
Furnace Maintenance Options
You're Gonna Love These People
We Make It Easy!
Experienced Technicians
Why Morris-Jenkins
Why Choose Morris-Jenkins for Furnace Tune-Ups in Gastonia
Your furnace is a controlled fire burning in your home. When it's cold out, your igniter goes from the outside temperature to around 1800 degrees Fahrenheit and back to cool in a matter of a minute. In order to keep that entire process safe for your family, your furnace is equipped with a lot of neat safety features and functions. We'll check them all! When you schedule a system renovation, we'll send out one of our furnace maintenance technicians to your home to do a safety check as part of your maintenance. Not only does a system renovation ensure your family's safety, but it also helps your unit run better for longer, keeping you cozy at home all winter long!
What Makes a System Renovation So Special?
Mr. Jenkins told me… don't take shortcuts! We believe in doing things the right way, even when it's not the easy way. When you book your system renovation, we'll take our time checking out all your furnace's safety features to make sure we're confident your family is safe. While we DO have a more basic maintenance option, the system renovation includes some extra services, such as:
Checking refrigerant levels
Testing electrical components
Flushing the drain line
Cleaning your unit of dust and debris
Here til midnight! You're a busy person with a lot on your plate. You shouldn't have to take off work for a furnace tune-up. That's why we have weekend and evening appointment options that don't cost extra.
Furnace Maintenance Options
You're Gonna Love These People
We Make It Easy!
Experienced Technicians
Priority Advantage© Membership
Evaporator Coiled Airflow Adjustment
Contactor and capacitor test
Bi-annual maintenance visits
Ready for convenient service?