Residential Water Line Repair Company in Gastonia, NC
Need your Water Line Repaired?
Is your water pressure so low it'll hardly rinse the shampoo out of your hair? It's probably not the news you wanna hear, but you might be dealing with a broken water line. Fortunately, you're in the right place. Our plumbers know how to fix that kind of thing the right way so you don't have to worry about a thing! All of our water line repair services include: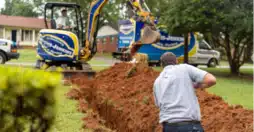 We keep our trucks fully stocked, so we can repair your water line then and there—no need to schedule another appointment.
Flat-rate, upfront pricing.
You'll always know the price of your water line repair before any work begins.
Late-night and weekend availability.
We're here 'til midnight and available on weekends, too.
Signs You Need This
What to Expect
Why Morris-Jenkins
Signs You Need This
Signs You May Need Your Water Line Repaired in Gastonia 
If you're only dealing with low water pressure in one appliance, don't worry! It might be something smaller, like an issue with that appliance. Diagnosing water line damage is more than just noticing low water pressure (and when we say, "low water pressure," it's not subtle—you would notice it). Other warning signs are:
Your Water or Electric Bill Increased
It's normal to use a little more water some months, but if you've noticed a big jump in your water bill, it's time to call a plumber. If you've got a leaking water pipe and you're on city water, the city might even call you to let you know something weird is going on with your water bill. If you're on well water, you use electricity to get water. So, if you've got a leaky well water line, your electric bill will go up.
If you're able to locate your water meter (it's a grey or green box usually by your mailbox), you might notice the leak detector spinning even while you don't have the water running.
Wet Spots in the Yard, House, or Driveway
That constantly squishy spot in your yard might seem annoying, but it's trying to tell you something important! When you've got a wet area in your yard, house, or driveway that never seems to dry up, odds are, you're dealing with a water line leak.
You May Hear Your Pressure Switch Clicking on and off (Well Water Only)
If your home relies on well water, your well has a pressure switch that signals the well pump to start or stop pumping. If your water lines are broken, they're leaking water, which can cause your pressure switch to keep clicking on and off.  
What to Expect
Why Morris-Jenkins
Ready for convenient service?