Furnace Tune-Up & Maintenance Pros in Indian Trail, NC
Furnace Tune-Up in Indian Trail
The dog days of winter are right around the corner. Is your furnace prepared? If not, don't worry. The team at Morris-Jenkins has your back. We've served Indian Trail for over a whopping 60 years, and we're prepared to service your furnace on YOUR schedule.
All of our furnace maintenance services include: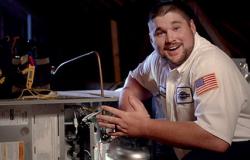 FREE smoke alarm battery change
100% money-back guarantee
Why Morris-Jenkins
Furnace Maintenance Options
We Make It Easy!
Experienced Technicians
Why Morris-Jenkins
Why Choose Morris-Jenkins for Furnace Tune-Ups in Indian Trail?
Your furnace needs a particular kind of care if it's gonna keep your home both warm and safe. As soon as the temperature starts to dip, your igniter triggers, bringing your home back up to a reasonable temperature. But when that happens, your furnace sharply rises to a temperature near 1,800 °F. While that temperature drops just as quickly, every part of your furnace needs to work effectively if the process is gonna be as safe as possible.
The good news is that, on top of its standard set of coils and electronics, modern furnaces come with safety features that protect your unit and home from the igniter. During a furnace tune-up with Morris-Jenkins, our team will look at your furnace's protective measures and inner workings to make sure everything's in order. If you schedule a system renovation, we'll also:
Check your refrigerant levels
Run electrical tests
Flush the drain line 
Clean dust and debris from the unit
If your furnace needs any repairs, we can work together to get your furnace ready for even the worst of Indian Trail's weather.
Scheduling Service to Fit Your Needs
Don't worry about extra charges if you work at odd times or just need an evening or weekend visit. We offer furnace tune-ups til midnight! We're even willing to schedule maintenance throughout the weekend at no extra cost. Whatever you need, whenever you need!
Furnace Maintenance Options
We Make It Easy!
Experienced Technicians
Priority Advantage© Membership
Evaporator Coiled Airflow Adjustment
Contactor and capacitor test
Bi-annual maintenance visits
Ready for convenient service?