You've probably heard of Morris-Jenkins if you've lived in the Carolinas a while. We've got a bit of a reputation, and people always love seeing our technicians out and about. You've probably seen our commercials on TV or at Panthers games. People in the Carolinas love Morris-Jenkins! But don't just take it from us—check out what your neighbors have to say!
Morris-Jenkins Treats People Like Family
It's stressful when something in your home breaks. Problems can come on unexpectedly, and they always seem to happen at the worst time (though there's never a good time!). It's especially scary when something in your house floods. That's why we make sure we get there FAST to get things fixed up for you. Check out what happened when this customer's bathroom flooded:
"So I woke up to a flooded bathroom upstairs due to an issue with the toilet. I called Morris Jenkins and they had someone at my house within 30 minutes. Josh was my technician and he was absolutely amazing. He was very informative and patent. He answered all of my questions and broke down the cost of everything without hesitation. He gave me various options and that allowed me to decide what the best plan of action would be for me dealing with this last-minute situation. I highly recommend Morris Jenkins and if you get Josh as your technician you will not be disappointed he is absolutely amazing!!!!!!"
– Tiffany H.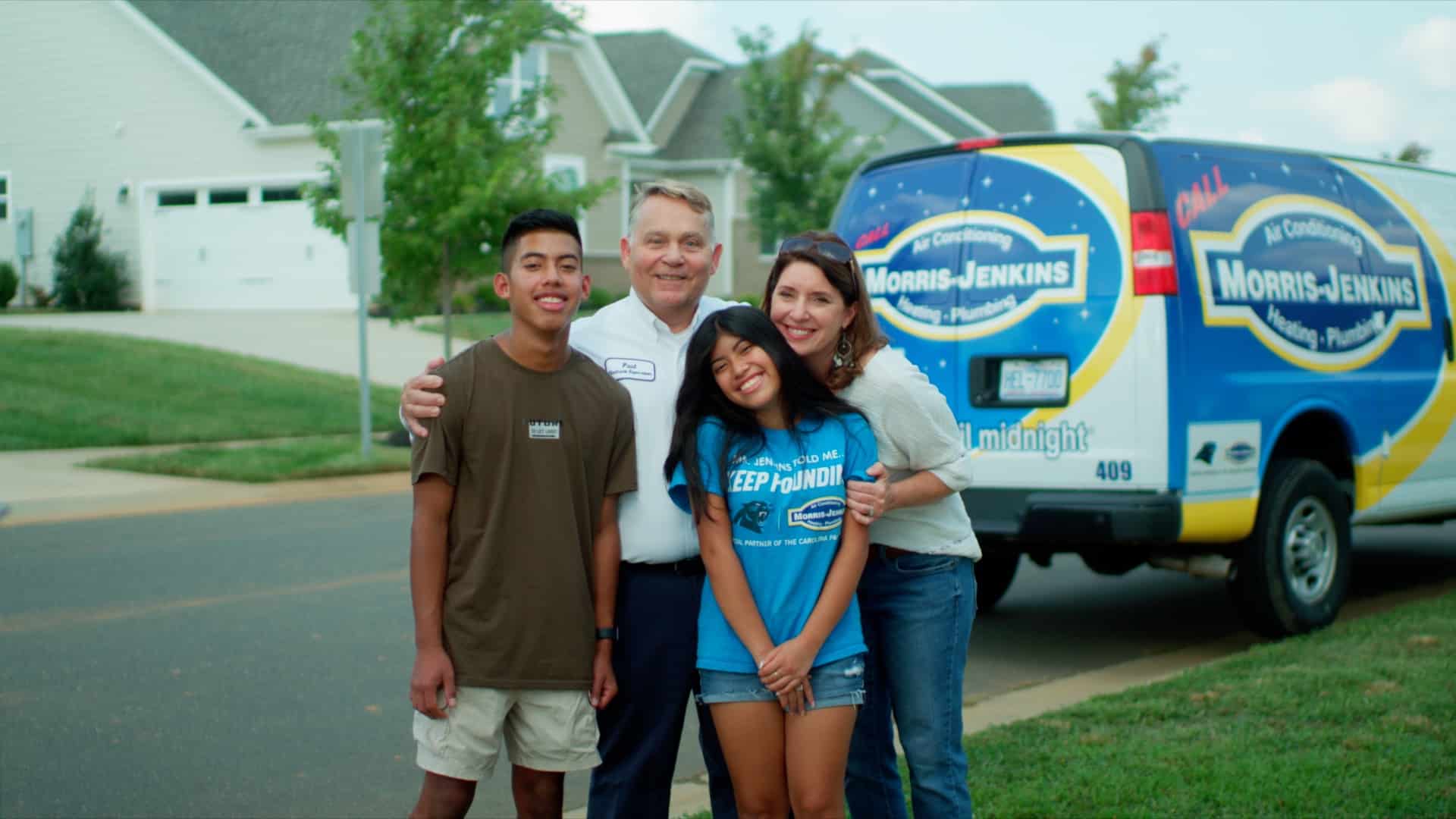 When someone calls us, we know they're someone's family member or friend. We do everything we can to show them the same respect we would want someone to show our very own loved ones! And that includes getting there as fast as we can so you don't have to worry about protecting your home.
"My pleasure!"
Think of a fast-food place that has quality food, quick service, and friendly workers.
We'll give you a minute.
Most often, people will think of Chick-Fil-A. Something about the way they can power through an entire line of hungry customers in record speed, serving up real chicken and smiles. We've been told several times before that we're the "Chick-Fil-A of heating, air, and plumbing!" This review was one fantastic example out of many: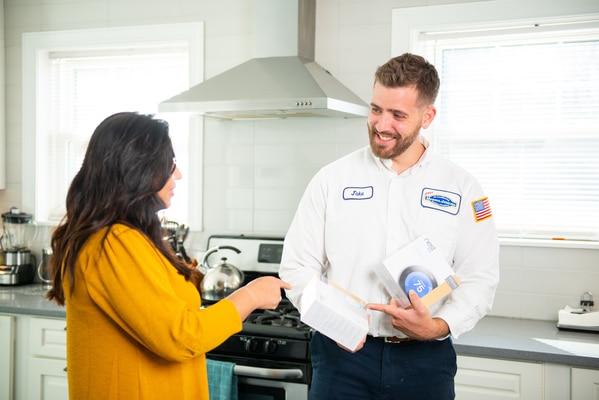 Morris-Jenkins is a wonderful company to work with. One of those where you get what you pay for! I wish there were more companies like this- I feel like they're the Chick-fil-a of heating/air & plumbing! Every employee has been a pleasure to work with – they're professional, on time, call ahead, do the job well and explain everything to you in simple terms. My dog loved Michael D today, but we have also had great help from Prom and TJ. Special thanks to Michael for changing my air filters and taking the trash out in the rain! 10/10 would recommend!
– Joanne P.
We love hearing about the times our technicians go the extra mile to help a customer in need. When we do something to make a customer's day better, it makes our day too!
Keep Calm & HVAC On!
Just because it's stressful when your unit breaks doesn't mean the repair experience has to be stressful, too! Check out all the kind things this customer had to say about her experience with Morris-Jenkins:
Bud came out on a Sunday afternoon when our air went out. Very friendly. He explained every step he would be taking in the process of determining the problem and then what would be needed for the remedy. He was very professional and offered extra Covid precautions, knowing we had my elderly parents in the home. After finding the problem, he ensured he had the parts on-hand and spent time showing my husband the issue and discussing our options. We greatly appreciated that he did not push the 'hard sell, sky is falling' approach. Instead, he explained both short-term and long-term outcomes for each of 3 options for today's fix. It honestly was because of this sincere gesture to accommodate our needs that we felt comfortable enough and trusted his knowledge to go for the more robust fix and replace everything he suggested, as well as knowing we will be well taken care of with the maintenance plan we purchased. It was very refreshing to see a company put their customer first and not the bottom line. We will certainly recommend to everyone
– Christine B.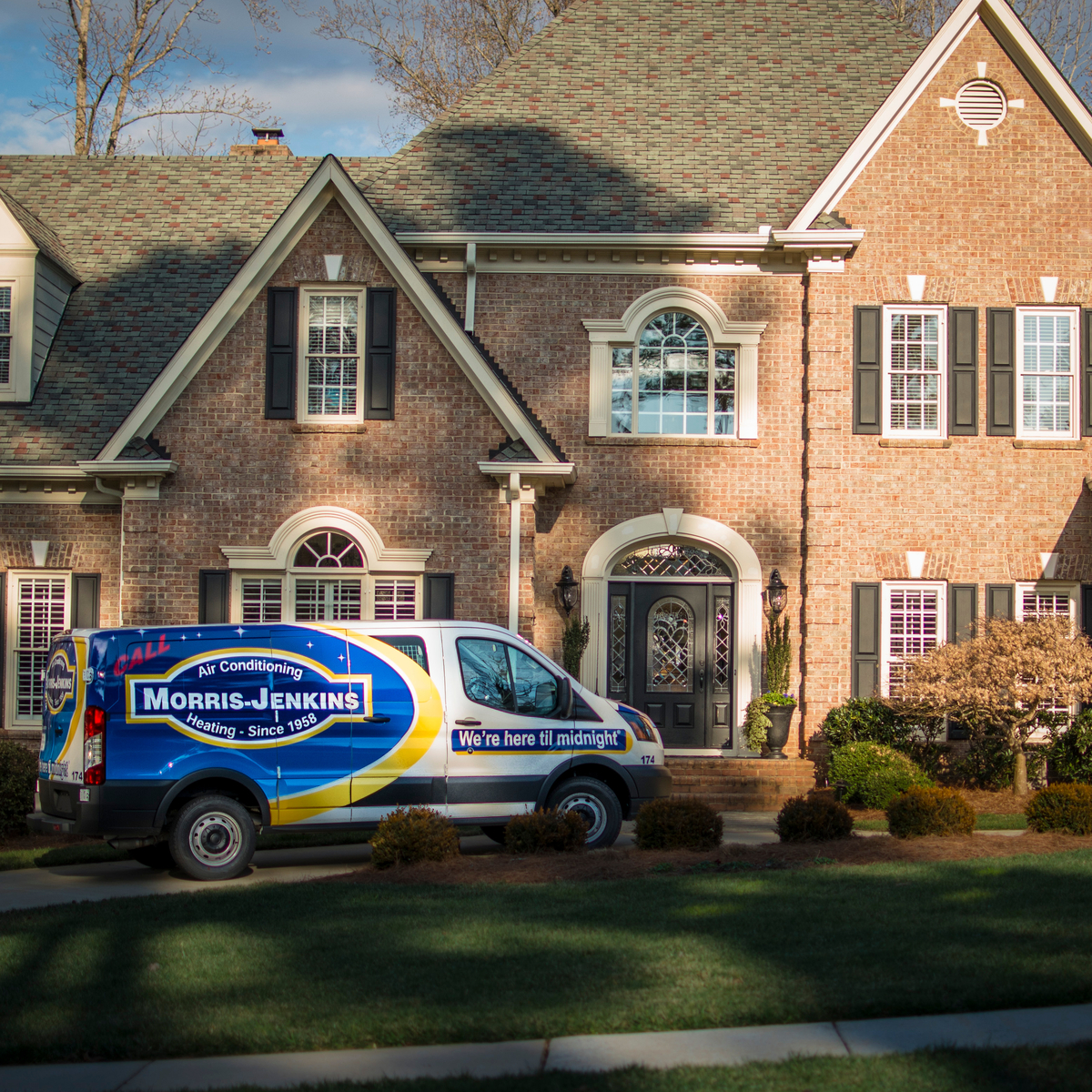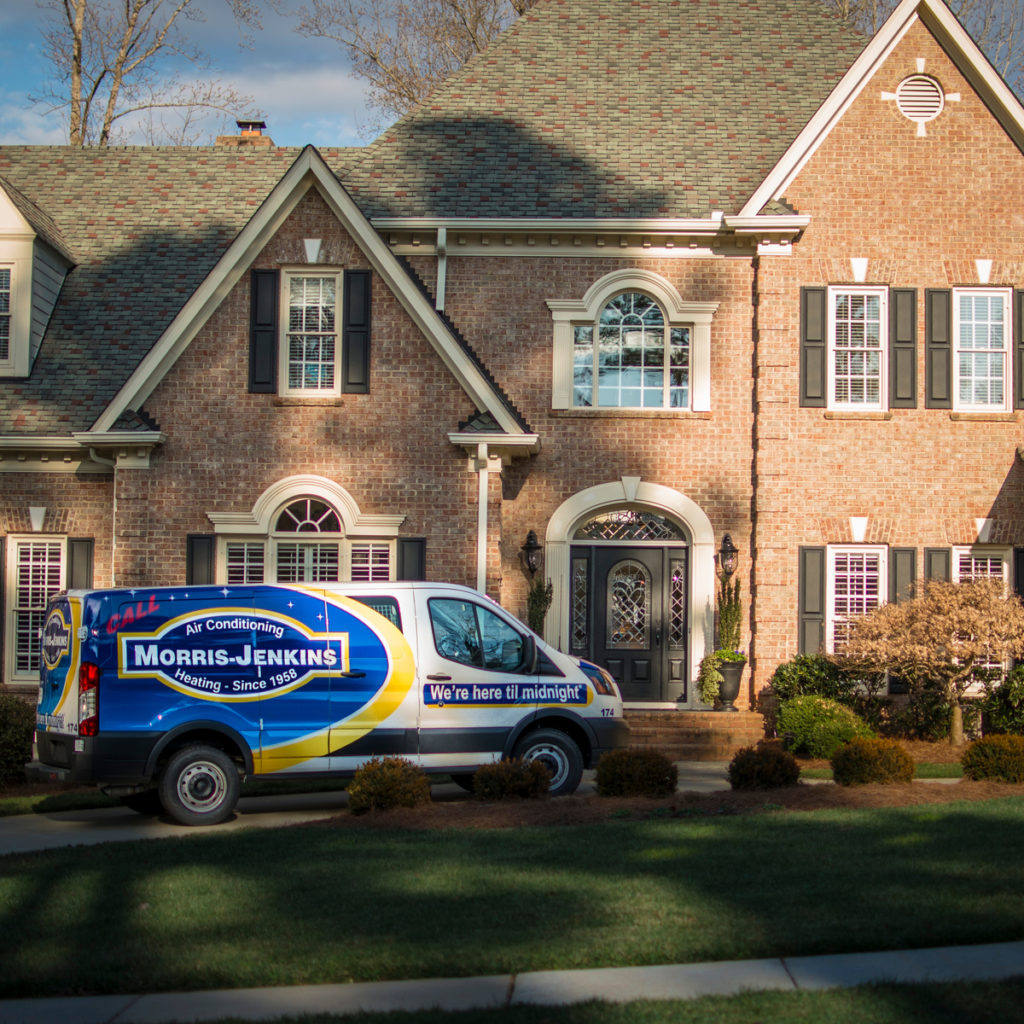 We're not here to scare you into making confusing choices! Our technicians like to give you some options for your home, and we wanna make sure you understand each one so you can feel confident about whatever decision you choose. After all, it's your decision!
Morris-Jenkins Keeps It Simple
Home service providers have a bad rep for making things confusing. We don't like doing that. We'd much rather take the time to explain things in words that actually make sense, and we'll show you pictures and illustrations when it helps you understand. It's important that you know what's going on so you feel good about the decisions you make for your home and family. In this review, the customer talks about a great example of one of our techs keeping calm and taking time to truly explain!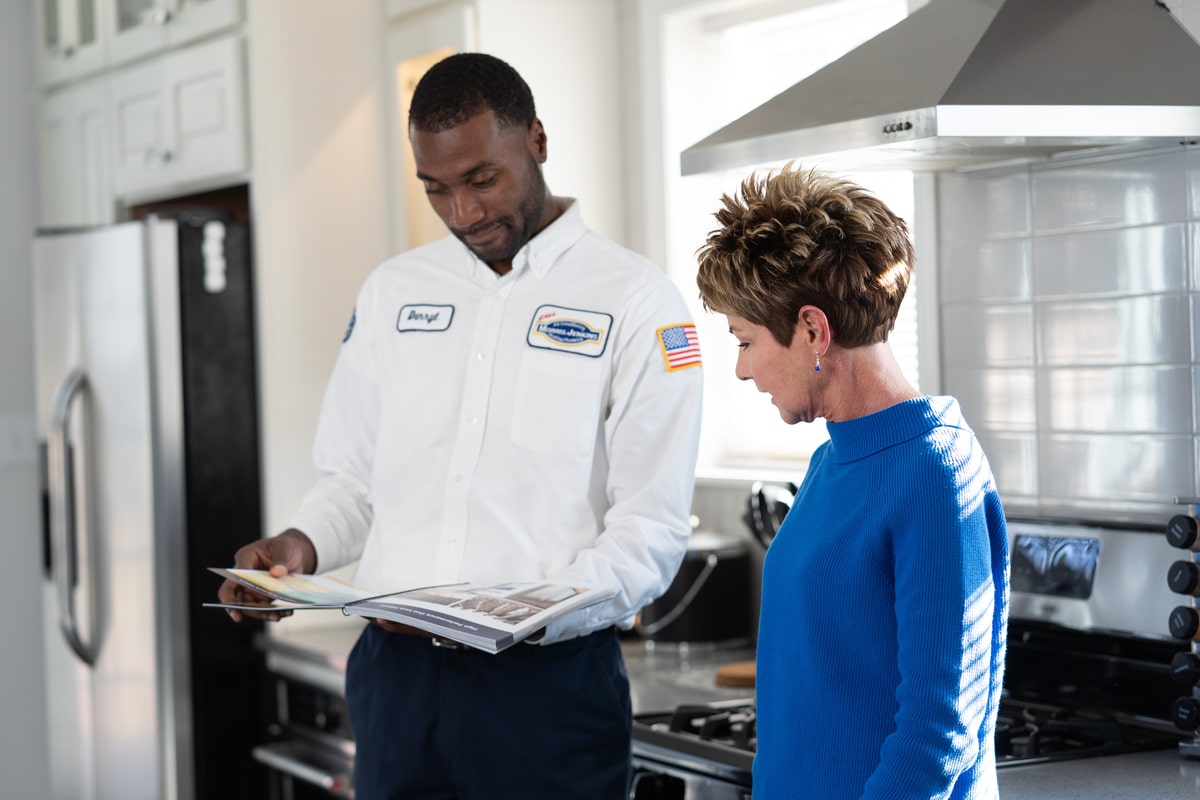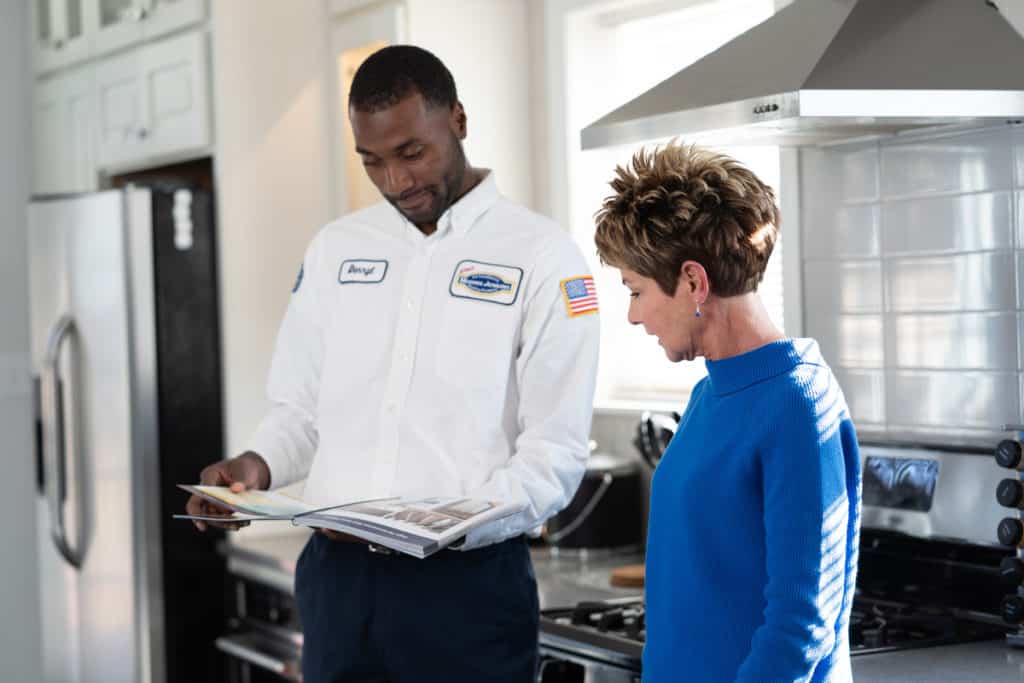 The technician, Donald P., fixed my AC efficiently and in a friendly manner. No BS, no whining about the slight inconvenience of accessing the unit, no baffling professional jargon designed to make me feel stupid or anxious, no badgering for add-on services (and yes, I've had all those from other companies). A good job done well and fast. Highest recommendation.
– Andrew H.
We're so glad we were able to make things easy for Andrew!
An Experience to Remember
Heating, air, and plumbing service can be a good experience! Morris-Jenkins focuses on making things easy for you while making sure you understand the repairs we recommend. Our technicians and plumbers are the friendliest and most talented around!
Are you tired of poor service and technicians with confusing scare tactics? So are we.