There's enough negativity in the world. It seems everywhere you turn, something scary or crazy is going on. That's one of the things everyone loves best about Morris-Jenkins: We love to put some good into the world! Our technicians and plumbers are some of the sweetest, kindest people you could ever meet. And people in our community like to let us know when they spot our techs out there making a difference in the world. Check out five of our favorite times our technicians made the world a better place!
The Time Our Techs Helped a Senior Citizen and a 7-Month-Old Baby
We hear stories all the time of families who count on companies to send out their technicians to fix a problem, only to get canceled on at the last minute. Or worse—the company never sends anyone and never lets the family know no one is coming! You deserve better than that.

Each call we get is from someone's parent, grandparent, sibling, or friend. We wouldn't want anyone treating our loved ones that way! That's why when you schedule with Morris-Jenkins, you can count on our technician or plumber showing up at the time you pick.

Check out this review about the time our techs came out to help a family when no one else would: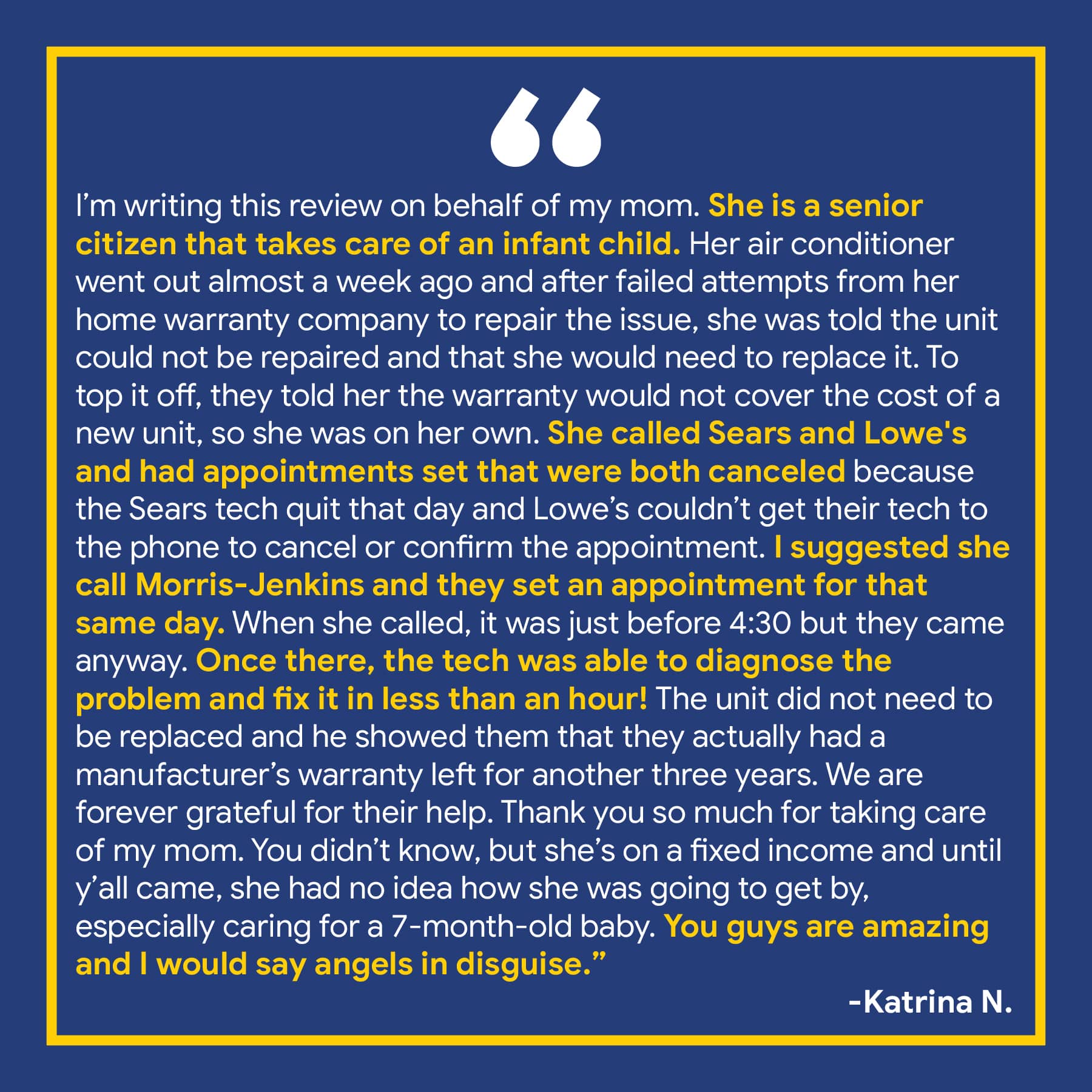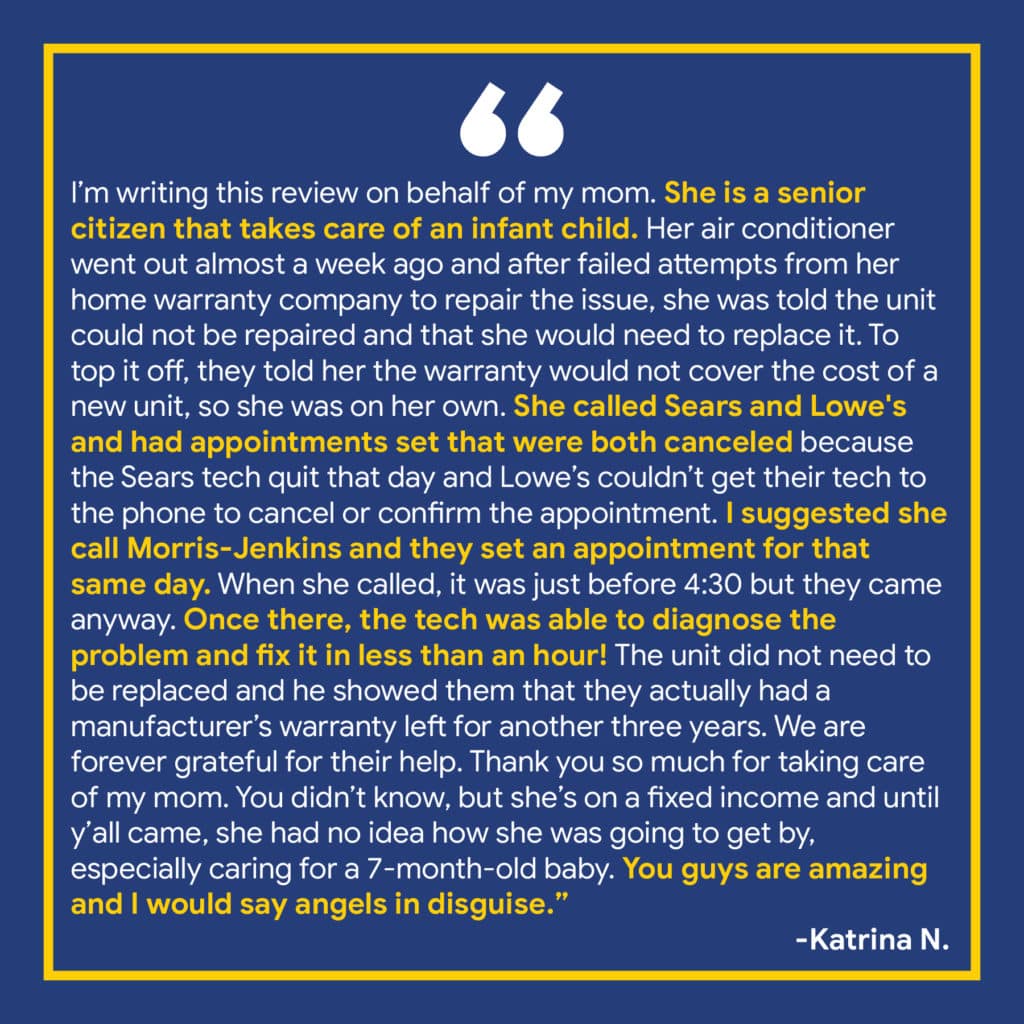 The Time Our Plumbers Made Sure Kids Could Shower Before School
Plumbing problems are stressful as-is, but then when you add kids to the mix… it's a whole different struggle! Every parent just wants to make sure their kid's basic needs are met, and when your home plumbing stops up, it can really mess with your plans. We once got a call from a worried dad who just wanted to make sure his kids could get showered up before school: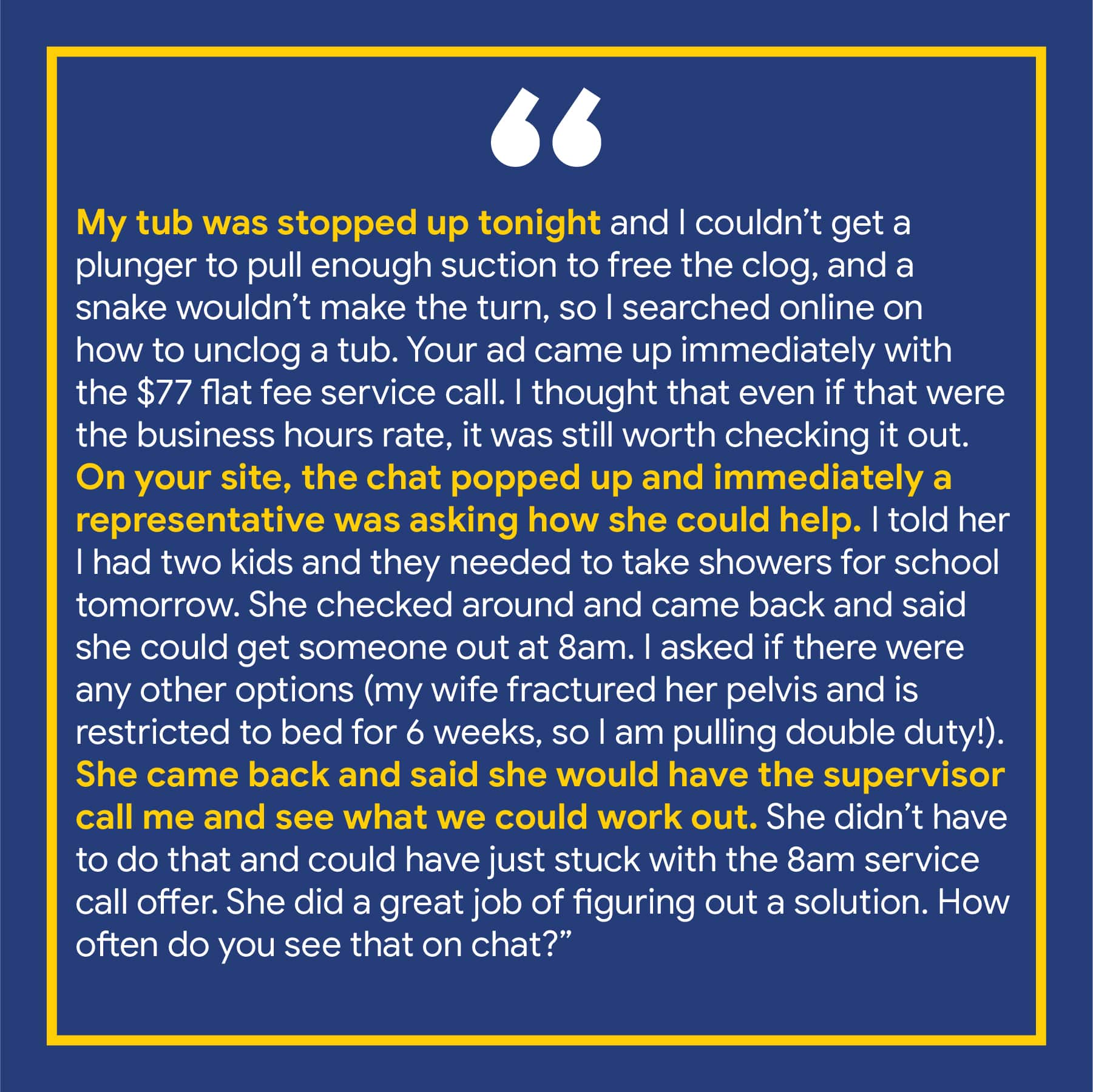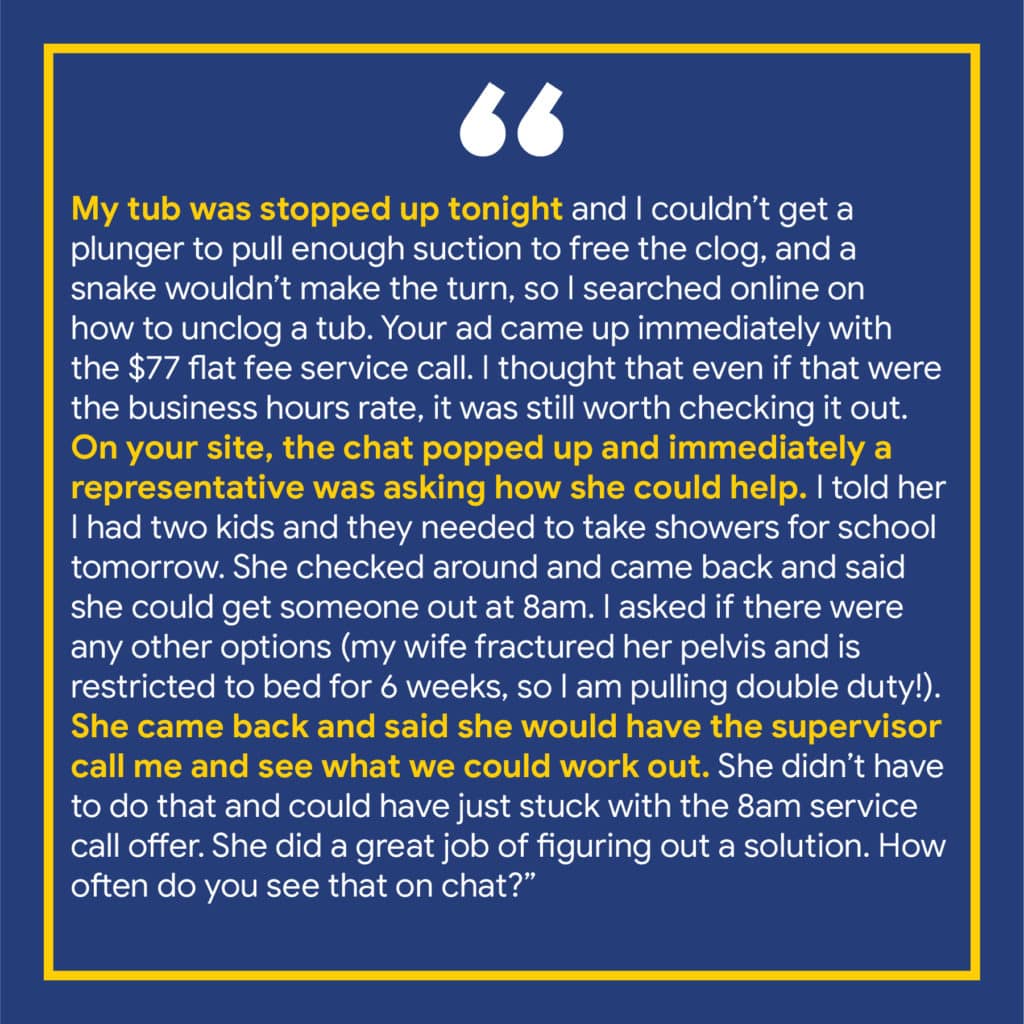 The Time One of Our Techs Safely Escorted a Lost Woman
Being lost in an unfamiliar area can be such a scary feeling! When a lost woman spotted one of our technicians in his van, she knew she could count on him to help. She flagged him down and he pulled over right away to help. She explained her situation, and instead of just giving her directions, he happily agreed to escort her there to make sure she made it safely.
The Time Our Plumbers Saved a Baby Shower from Plumbing Disaster
Mr. Jenkins told me… celebrate, celebrate, celebrate! And having a baby is definitely a reason to celebrate! When this customer called in for help with their plumbing the day before hosting a baby shower at their house, we couldn't wait to save the day. Two of our plumbers came out the same day the customer called to make sure there was time to get things up and running again in plenty of time for the baby shower: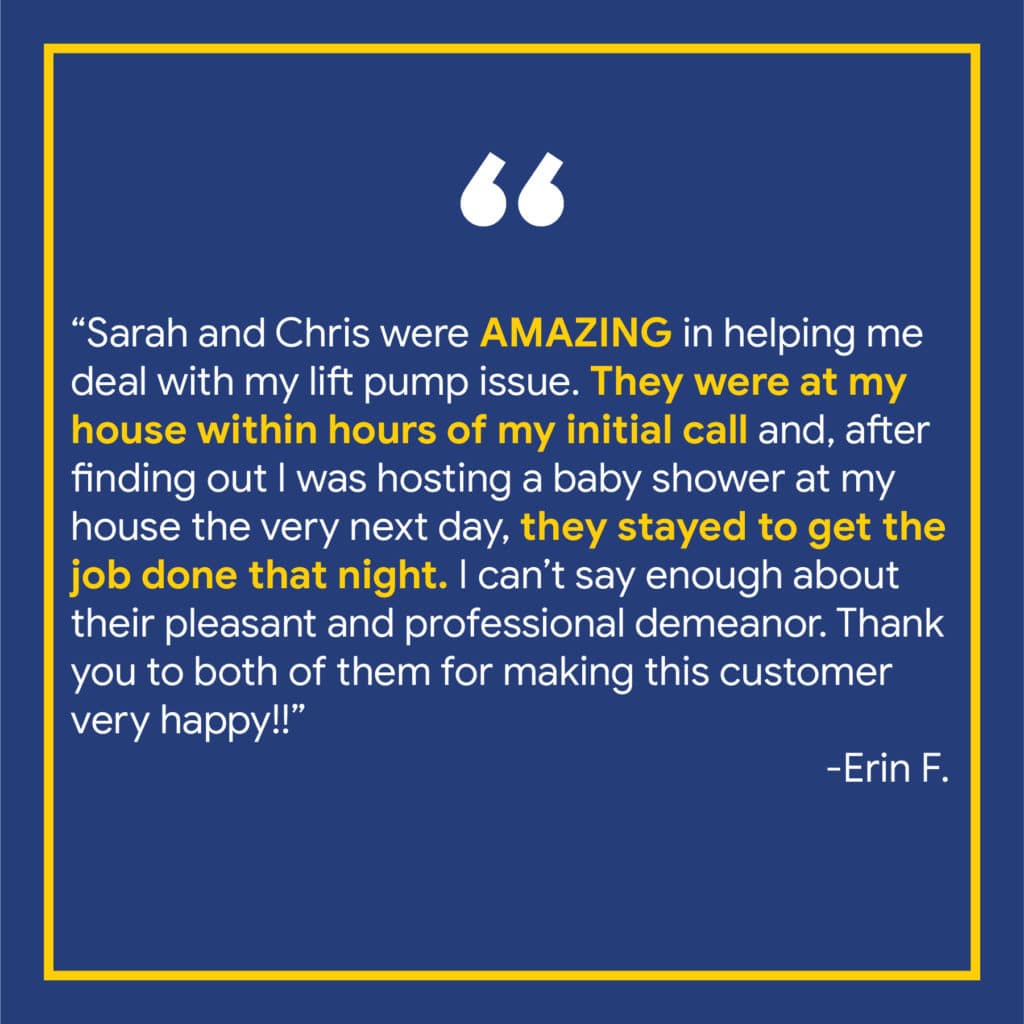 The Time One of Our Techs Showed Off His Landscaping Skills
This might be one of our favorite stories yet! One day, our technician, Jason, went out on a call to help a man with his air conditioner. The customer started talking to Jason about how he had suffered from a stroke just last year. When Jason went outside to take a look at the outdoor unit, he noticed an overgrowth of plants around the AC. He could've easily removed only the plant growth in his way so he could complete the job and move on with his day, but our techs like to go above and beyond. Instead, he decided to do some landscaping for the man while he was there. He trimmed back all the trees and greenery that had started growing wild ever since the man's stroke. When he was done, the customer was so excited to be able to enjoy his yard again for the first time in a while!
Making the World a Brighter Place… One Random Act of Kindness at a Time
How can you make your community a brighter place today?
If you ever catch one of our techs out there doing good in the world, we wanna hear it!