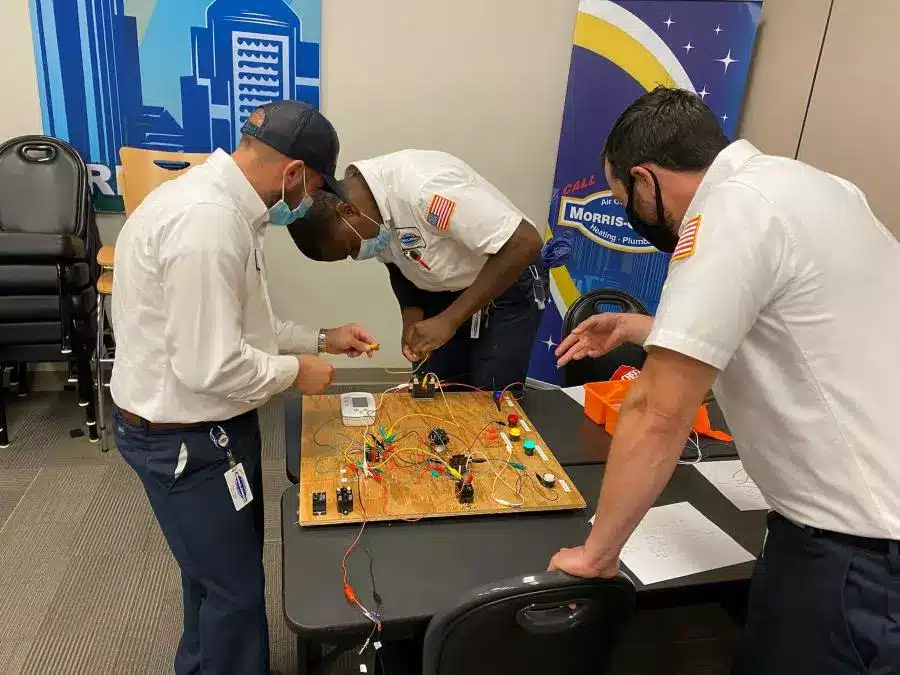 You're tired of routine jobs that don't mean anything. You wanna make a difference in the world.
You're good with your hands and you've never shied away from a challenge.
Tech Builder is exactly what you're looking for! This is an entry-level paid training opportunity. You can make money while you train from the ground up to become the greatest HVAC technician around. You know what makes it even better? When you're done with training, we'll hire you full-time.
Tech Builder provides you with the training you need to start a successful career as an HVAC technician. You'll meet new people every day, work with your hands to solve challenging puzzles, and help families all over Charlotte and the surrounding areas!
We get it—you don't wanna make a big life change without putting in some serious thought. That's why we talked to three of our recent Tech Builder graduates who wanted to tell you all about their experiences!
What was the day-to-day like as a Tech Builder?
Every day as a Tech Builder trainee is a bit different from the next. Some days, the trainees are in the classroom, some days they're practicing their new skills in the lab, and other days they're on the field with real technicians on real service calls. "We were always learning new things and there was never a dull moment," says Tech Builder, Brad.
Classroom Time
"Before the class starts, you get a general idea of how the information will be covered and how long you will spend on each topic (refrigeration, air flow, electricity, and heating)," Zach recounts. "At the end of the day you're allotted a study hall. During this time, you can go into the training lab and practice all of the information you learned that day."
"They provided us a firm foundation on the basics of the HVAC world in which almost all of us had zero knowledge," says recent graduate, Bryan.
You might also like: A Day in the Life of a Build-a-Plumber Trainee
Lab Time
Morris-Jenkins has a training lab with all the equipment you might see in the field as a full-time technician. Would you call yourself a hands-on learner? You'd love this!
After learning in the classroom, you get to take that new knowledge to the lab to practice with the actual equipment. "We were able to actually put our hands on equipment and practice what we had learned," Bryan says. You'll get to troubleshoot problems on the units in our lab, just like you'll be doing on the job after graduation!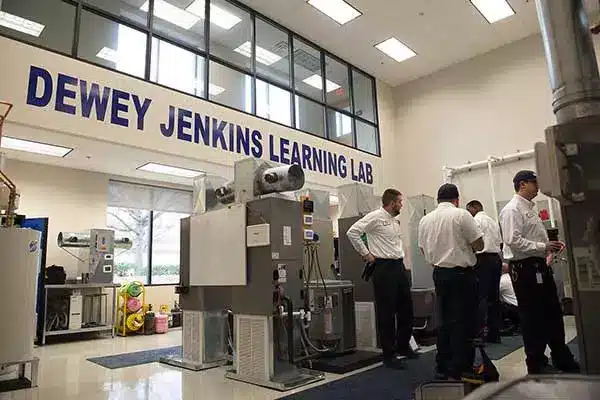 Time on the Field
"After passing all of the tests and quizzes, we were able to learn on the job by riding with seasoned techs," Bryan recalls. This is when a lot of Tech Builders develop their deepest understanding of their newfound knowledge!
"Our newly acquired skills and knowledge coupled with someone who's 'been around the block' provided enough freedom to practice all that we had learned with the security of having someone there to give help when needed," he says. "Once those two ride-along weeks are up, it's time to put the rubber to the road and show what you know!"
Recommended: An Office Worker's Day as a Morris-Jenkins Technician
What was your favorite part of Tech Builder?
"My favorite part was diagnosing the units," Zach says. "On certain occasions, [the instructor] will bug a unit and we have to use the tools at our disposal to figure out what the issue is. You start to get a feel for what it is like to be a true technician."
"My favorite part of Tech Builder was getting to interact with all of my new pals on a day to day basis who I know I could call on a whim and seek advice," says Bryan. "It was gratifying knowing we all came in with as much knowledge as the person sitting next to us and coming out EPA certified with bright careers ahead."
What made you want to join Tech Builder?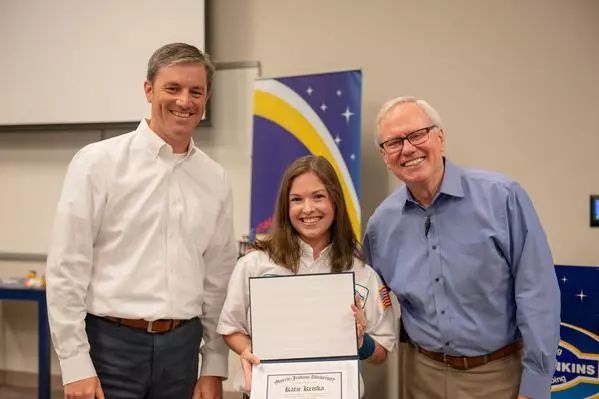 "I wanted to be in a commercial," Brad teased. His real reason for wanting to join Tech Builder? "I wanted to put myself on a good career path, and Morris-Jenkins is the king of HVAC in Charlotte."
"I saw Tech Builder as a paid opportunity to learn an ever-growing trade that's here to stay," says Bryan. "In most cases, anyone who wants to venture down the HVAC path would have to pay to gain a portion of the knowledge Morris-Jenkins afforded us. Being able to learn an in-demand trade with endless possibilities all while being paid was a no-brainer."Zach's brother is actually a plumber at Morris-Jenkins! After his brother told him about Tech Builder, he says, "I looked the job up that night but didn't put in my application until eight months later. I had to be sure I wanted a change. After annoying my brother with a billion questions about the job, I decided it was the right time to make a change and learn a new trade."
What advice do you have for anyone considering the Tech Builder program?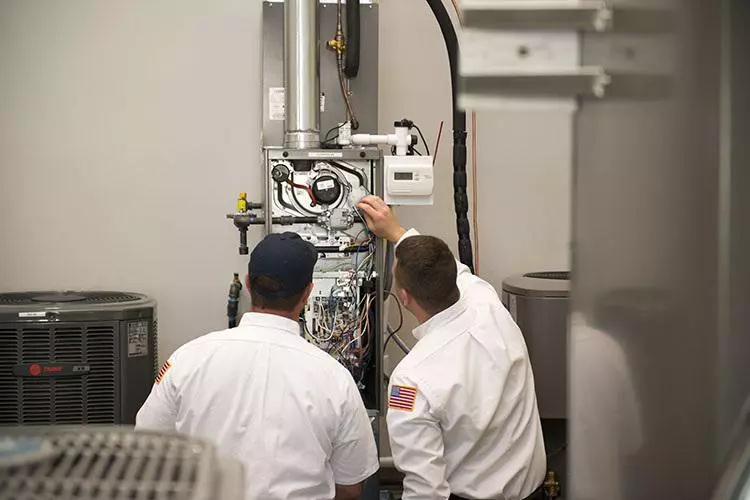 Getting excited about the possibility of an amazing career? We don't blame you! Tech Builder is an opportunity you won't find anywhere else. After all, how often do you see entry-level paid training like this?
When you start Tech Builder, Brad advises that you "study your head off and don't step on the break till you pass the finish line!" Bryan agrees, saying "They do a great job at providing you all the materials and information you need to succeed. Use it! It will all be worth it in the end and the sense of accomplishment you feel is well worth it."
"The advice I'd give to future Tech Builders is to be comfortable with being uncomfortable," Zach says. "You are going to be put in situations that take you out of your comfort zone both mentally and physically."
Are you up for the challenge? Ready to make friends and memories? It's time to start a career like no other.
Don't miss out on this opportunity for entry-level paid training, where you can learn a trade from the ground up!