AC Maintenance & Tune-Up Service Pros in Charlotte
Choose an Air Conditioner Service
Help your AC live longer and run better
You need an AC that keeps your home cool and comfortable all summer long. Guess what? We can help! With our AC maintenance options in Charlotte, you won't have to worry about a breakdown when the heat waves hit. And because we know you're busy, we're willing to work around your schedule to get the job done All of our AC tune-up services include: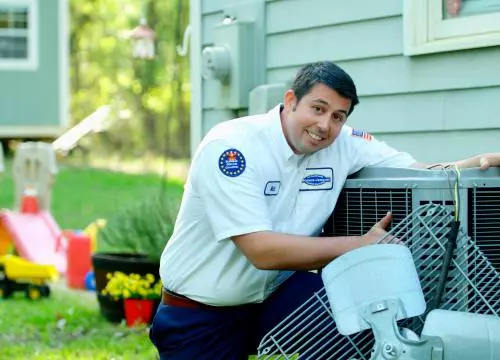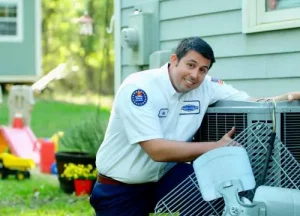 FREE smoke alarm battery change
100% money-back guarantee
What to Expect
We Make it Easy
Why Morris-Jenkins?
You're Gonna Love These people!
What to Expect
What to Expect from AC Maintenance in Charlotte
Breakin' a sweat at the gym can be rewarding, but when you're stuck sweating in your own home, it can drive you a little crazy! AC maintenance doesn't take a lot of time, but it can offer a ton of benefits. Think of it like a checkup– the perfect way to keep your AC happy and healthy.
But when it comes to your home, you're the boss. That's why we give you options. Whether you just need something quick to give your AC a little boost, or you want a full-service check, we're here to get the job done right.
Check'N'Wash
Is a simple checkup what you've got in mind? Our Check'N'Wash service could be just what you need. We'll do a visual check of your AC, then wash your outside coils. When we're done, your unit will breathe better so it can cool your home faster!
System Renovation
Looking for a little more for your AC maintenance? A system renovation is exactly what your home needs! We'll come out and check your system from top to bottom to make sure your air conditioner is ready for the season. Your tech will:
Calibrate the system
Check the thermostat
Test the capacitor and contactor
Adjust the evaporator coil airflow
With a full coil cleaning for good measure, your AC will have everything it needs for you to have a blast (of cold air) all summer long!
Perks Galore with Priority AdvantageⓇ Membership
When you join Priority Advantage, it includes two system renovations per year (one for heating, one for cooling). And that's just the start of the awesome benefits! You'll also get:
Access to our members-only hotline
Free drain cablings
Priority service (jump right to the front of the line)
Discounts on repairs and diagnostics
Access to our exclusive events and getaways
Does this sound like a party or what? Get in on the fun!
We Make it Easy
Why Morris-Jenkins?
You're Gonna Love These people!
Priority Advantage© Membership
Evaporator Coiled Airflow Adjustment
Contactor and capacitor test
Bi-annual maintenance visits
Ready for convenient service?