Furnace Tune-Up & Maintenance Service Company in Charlotte
Help your furnace live longer and run better
Have you just installed a new furnace, and you're trying to take good care of it? Are you hoping to get the most out of your current furnace? Morris-Jenkins can help make that happen! Regular maintenance is the secret to a long life for your furnace. Although furnace tune-up is a popular way of taking care of your furnace, Morris-Jenkins takes it one step further with a system renovation. All of our furnace maintenance services include: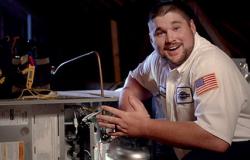 FREE smoke alarm battery change
100% money-back guarantee
Why Morris-Jenkins
Furnace Maintenance Options
You're Gonna Love These People!
We Make it Easy!
Why Morris-Jenkins
Why Choose Morris-Jenkins for Furnace Tune-Ups in Charlotte
The technicians at Morris-Jenkins are incredibly thorough. You can trust our technicians to inspect every single safety feature and component in your furnace to ensure everything is looking good for winter. We'll include a safety check with your furnace tune-up when you schedule a system renovation with us! Furnaces come with risks, like carbon monoxide leaks and fires. Fortunately, they've got tons of safety features in place to prevent those things from happening. With a Morris-Jenkins safety check, we'll certify your furnace FAMILY SAFE!
To make things as easy as possible for you, we make sure we're available on your schedule. You can book a furnace tune-up and system renovation every day til midnight and even on the weekends. The best part? It won't cost you anything extra for those appointment times.
What Makes a System Renovation so Special?
Your furnace is a complex device, even if it looks like a simple metal box. Inside that metal box are several components and moving parts that interact to create the heat in your home. That means there are several points of failure that need monitoring to ensure everything is working right.
Your tech will do a careful inspection of your entire furnace to ensure every safety feature is ready to keep your family safe. Instead of a typical furnace tune-up, our system renovation includes a refrigerant level check, electrical components test, drain line flush, and full cleaning to remove dust and debris.
Furnace Maintenance Options
You're Gonna Love These People!
We Make it Easy!
Priority Advantage© Membership
Evaporator Coiled Airflow Adjustment
Contactor and capacitor test
Bi-annual maintenance visits
Ready for convenient service?