Heat Pump Tune-Up & Maintenance Services in Charlotte
Choose a Heat Pump Service
Help your furnace live longer and run better
You want your heat pump to last as long as possible. After all, it was an investment! That's why an annual heat pump tune-up is so important. And just like you want the best doctor for yourself and the best mechanic for your car, you want the best of the best HVAC technician in Charlotte for your heat pump. All of our heat pump maintenance services include: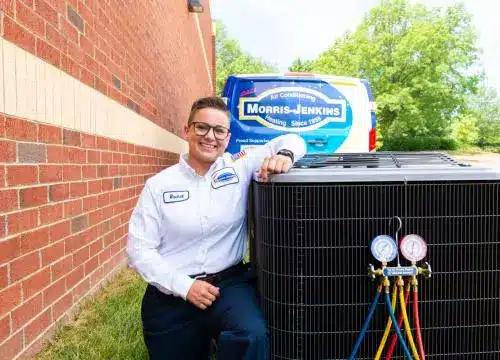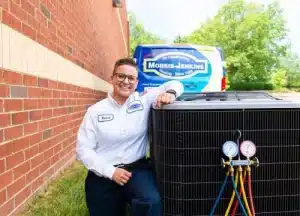 FREE smoke alarm battery change
100% money-back guarantee
Why Morris-Jenkins?
How It Works
Repairs Made Easy
You're Gonna Love These Guys!
Why Morris-Jenkins?
Finding a "Heat Pump Tune-Up Near Me"
Your heat pump works hard. All year, it puts in the effort to keep your home comfortable, which means it'll inevitably start to show signs of wear over time. You don't wanna neglect your heat pump to the point where it breaks down when you need it most. Scheduling regular care through a qualified technician like Morris-Jenkins is the best way to keep your heat pump happy.
One Step Beyond
Morris-Jenkins aims higher than other HVAC providers in the Charlotte area. That's why we recommend more than a simple heat pump tune-up, instead offering our full system renovation. This includes appointments on the weekend or during the evening. Whatever works best for you and your schedule! And we make scheduling easy — we're open from morning til midnight every single day of the year.
How It Works
Repairs Made Easy
You're Gonna Love These Guys!
Priority Advantage© Membership
Evaporator Coiled Airflow Adjustment
Contactor and capacitor test
Bi-annual maintenance visits
Ready for convenient service?