AC Maintenance & Tune-Up in Indian Trail, NC
Choose an Air Conditioner Service
Help your AC live longer and run better
When you call us, you'll notice a difference right away. That's because when someone loves their job, it shows in the way they talk to you. You'll feel like you're talking to one of your best friends. We don't stop there, though. We also make sure to keep the mumbo jumbo out of the conversation. We'll explain everything clearly so you know exactly what you're getting with your service.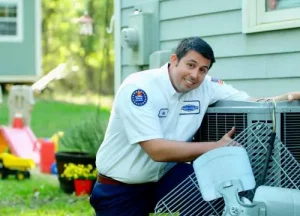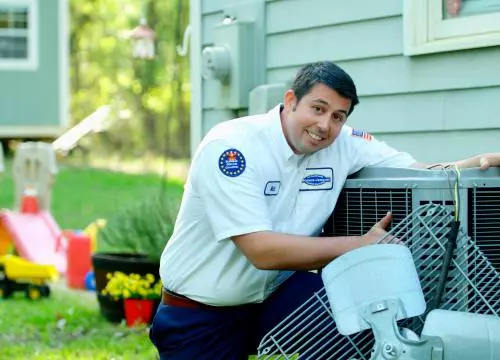 FREE smoke alarm battery change
100% money-back guarantee
How It Works
Signs You Need This
Education
Why Choose Us
How It Works
Indian Trail AC Tune-Up
Have you ever had to spend a hot summer in Indian Trail with an AC that didn't work that well? You'll agree, it can make you appreciate how important it is to have an air conditioner that's doing its job day and night without breaking down. You might wanna know the secret of keeping your AC in tip-top shape without having to pay for lots of repairs. It's not a secret at all–you just gotta keep it maintained!
At Morris-Jenkins, we love taking care of air conditioners by offering AC maintenance. It's great to be able to take something that's not working well and turn it into a super cooling machine. If you don't wanna have a hard time beating the heat this summer, give us a call.


1) Schedule your appointment
Call us at (704) 357-0484 or schedule an appointment online  (we'll get back to you ASAP). You'll get a confirmation email with your appointment day and time. We'll send you a picture of your tech when they're on the way, so you know who to keep an eye out for.


2) Choose your system
One of our AC techs will come size your home to make sure you get a perfectly sized AC. Then, you'll decide which system option you want (we'll give you a few).


3) Get your air conditioner installed
We've been doing this since 1958, so we're a well-oiled machine when it comes to installing air conditioners. Your tech will install your new system either that same day or the next—without cutting corners, of course.


4) Tell us how we did
We want to hear how our team did—whether it's good or bad. After your installation, we'll make sure you have the chance to talk with us about your service.
Signs You Need This
Education
Why Choose Us
Priority Advantage© Membership
Evaporator Coiled Airflow Adjustment
Contactor and capacitor test
Bi-annual maintenance visits
Ready for convenient service?