AC Tune-Up Service Experts in Mount Holly, NC
Choose an Air Conditioner Service
Help your AC live longer and run better
If you're from Mount Holly, we'd LOVE to help you out with your AC. You can get the process started by calling us, texting us, or chatting with us on our website. It's never a bad time to get back on track with your AC maintenance. We're always here to help at Morris-Jenkins, and we're excited to get your AC up to speed.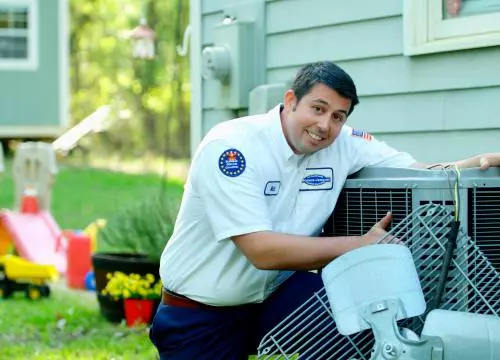 FREE smoke alarm battery change
100% money-back guarantee
Signs You Need This
Tune-Up vs Repairs
Education
Why Choose Us
Signs You Need This
AC Tune-Up in Mount Holly
There can be some pretty perfect days in Mount Holly when the temperature is just right outside. But you're not gonna get many summer days when it feels perfect inside without some help. Once spring hits, summer temperatures are just around the bend. And the high humidity can make everything feel worse. When your AC is working perfectly, it can solve problems with heat and humidity, making it perfect even when it's sweltering outside. But if you don't take care of your AC, it's not gonna be able to do its job as well.
Annual AC maintenance is the answer! It's gonna keep even an older AC working like it was installed yesterday. And it'll make your new AC work for years to come. At Morris-Jenkins, we make it easy to take care of your AC with different options and easy scheduling.
Tune-Up vs Repairs
Education
Why Choose Us
Priority Advantage© Membership
Evaporator Coiled Airflow Adjustment
Contactor and capacitor test
Bi-annual maintenance visits
Ready for convenient service?