Wow. 2020.
What a year, huh?
2020 has been a challenging year for sure, but it wasn't without its good moments. So, in honor of saying goodbye to one of the craziest years ever, we wanted to celebrate some of the positives together!
First Quarter: January Through March
In January, we started the year off like any other. We had plans for exciting Priority Advantage® Member events, we looked forward to celebrating our usual traditions, and we enjoyed seeing everyone's smiling faces in the office. It was a new year, and we all started with new goals. We started the year off with our new edition of Mean Tweets!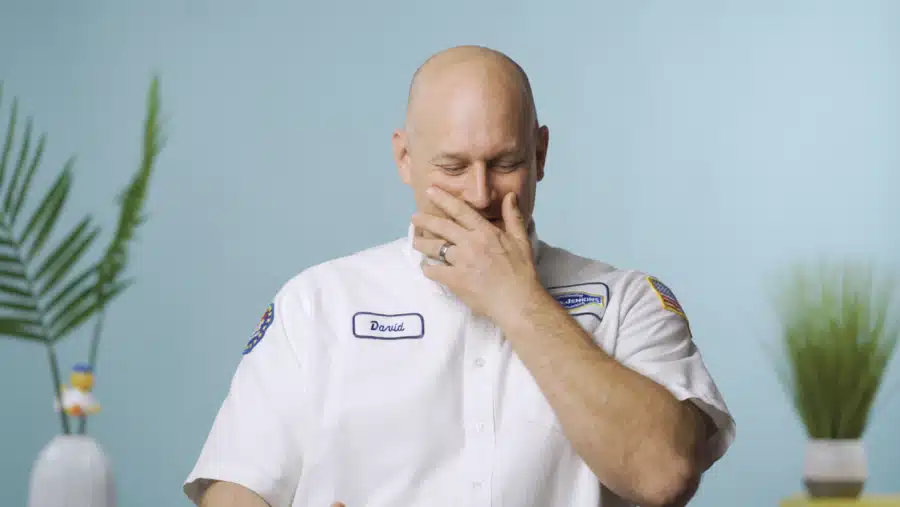 Week 3 of the 2019 NFL season. Panthers on a scoring drive against the Arizona Cardinals. Kyle Allen rolls out to throw and… cut to commercial! That's right. The local TV station cut to commercial break too soon and there we were, in all our glory.
Panthers fans were NOT happy to learn they missed a TD pass when the broadcast resumed.
Early 2020, we decided to share with the public some of the tweets we found about that day.
News of COVID-19 circulated, and we began to embrace social distancing and masks so we could keep our customers happy, comfortable, and healthy.
By the time March rolled around, North Carolina went on quarantine. Fortunately, Morris-Jenkins was labeled an "essential business," which allowed us to (safely!) continue supporting families in the greater Charlotte area with their heating, air conditioning, and plumbing.
In March, our largest Build-a-Plumber class ever graduated with 17 new plumbers! Since then, those graduates have become full-fledged Morris-Jenkins plumbers!
All while adjusting to this new way of life, we released one of our favorite videos ever! March 2020 was when we first aired our Gently commercial with the tune you all know and love.
Recommended: "How Are Morris-Jenkins Employees Handling Quarantine?"
Second Quarter: April Through June
Our IT team is crazy good at what they do! In no time flat, they were able to get our entire office staff remote access so they could work from home to help keep themselves and their families safe. We started to get used to having meetings over video chat, and we learned the best ways to work together to make sure we were still able to provide the best service to the families that rely on us!
While your family was spending more time than usual at home, your kids joined us for story time! We did several live streams of our employees reading fun books for kids across the Carolinas to enjoy with us. April is also when we were featured in WSOC-TVs "Charlotte Strong" series, where they supported local businesses around Charlotte that were working hard to keep people safe and healthy while providing necessary services.
Air conditioning and plumbing were labelled "essential services" for public health and safety. We changed how we interact with the public so we can keep YOU safe! We're still here, seven days a week til midnight to make sure your family stays comfortable at home. Together, we're Charlotte Strong!
After "Gently" became so popular, we decided to have some fun with it! In May, we started the official "Gently Games!" Think of all the games you play that need to be done gennnntly! Jenga, egg toss, card houses, and Operation are some of our favorites.
Who else remembers this classic game?
In Operation, the biggest rule is to remove the pieces gennnntly!
Since people were spending more time at home than usual, more and more people started to flock to Tik-Tok. We hopped on the bandwagon and made our very first Tik-Tok in June! Not long after that, we stopped posting to Tik-Tok (oops).
By the time summer rolled around, people across town were all singing "Gently!"
The next generation of #gently stars is still looking bright! 🤩
Third Quarter: July Through September
Summer was half over and we still couldn't get Gently out of our heads… and neither could you!
You've seen the commercial and heard the jingle. We know it's been stuck in your head. Now it's YOUR turn to sing!
In September, we decided to partner with another local winning team… The Carolina Panthers!
With the help of the Panthers, we've launched Kicks for Kids. In other words, every time the Panthers score a field goal, Morris-Jenkins donates $1,000 to Levine Children's Hospital! All the more reason to cheer them on! Even though game day may look a little different this year, we're excited about all the possibilities our new partnership holds for the future!
As part of our new partnership with the Panthers, we started testing out just how much our technicians would do for Panthers tickets of their own. Turns out… they'll eat crickets!
Related: "Morris-Jenkins Loves Levine Children's Hospital"
What's a Panthers ticket worth to you?
We asked our techs if they'd eat a cricket for a ticket, and a few brave souls said YES! These die-hard Panthers fans pushed their personal limits and tried some flavored crickets. Which flavor would you pick?
Fourth Quarter: October Through December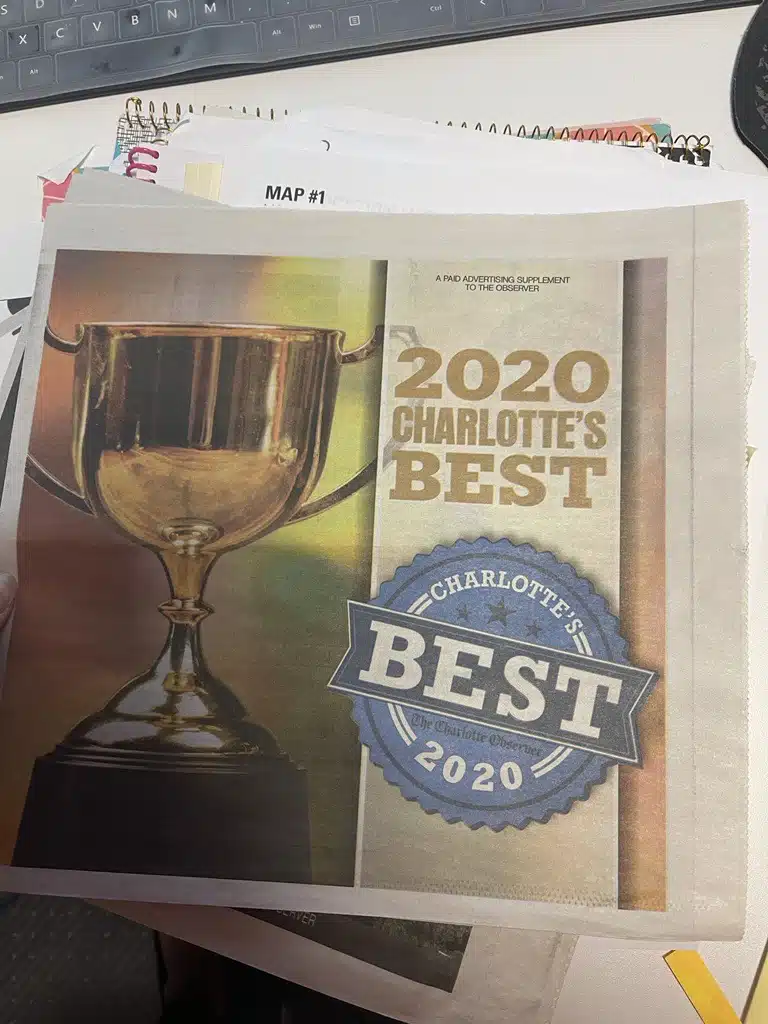 We won the Charlotte Observer's Top Workplace award for 2020 in October! We're proud to say we've now been voted Top Workplace in 2016, 2018, 2019, and 2020!
November was another exciting month for Morris-Jenkins because we won the "Best of Charlotte" award for HVAC and plumbing! Thank you for showing us your love and support!
Our entire team felt so honored to win these awards, We work hard to make Morris-Jenkins a valuable part of the community, and moments like this remind us that our hard work pays off!
We always wanna make sure your family is safe and comfortable, and we love seeing you smile! When we say "family," that includes your family pet! In November, we decided it was time to treat your dog to something special. For everyone who scheduled their heating maintenance, we brought dog toys for their pup!
The fourth quarter also brought another huge milestone for us. Thanks to you, we hit 10,000 Google Reviews and maintained a 4.9-star rating! This isn't a testament about us, it says more about YOU. You're kind, generous, and supportive, and we're so grateful for you!
We just wanna say thank you!
Thank you for your kind words in all your reviews, thank you for trusting your family's home with us, and thank you for always being there with us to celebrate!
Speaking of celebrating… we now have over ten THOUSAND Google Reviews, and a 4.9/5.0 rating. That's HUGE!
Brighter Days Ahead
You've been there with us through a wild year for sure!
We can't begin to tell you how thankful we are for your family. You've laughed at our funny videos, sang along with us to "Gently," cheered us on in our accomplishments, and most importantly: you've trusted us with your family home during a really difficult time for many people. You are what made 2020 better, and we have high hopes for 2021.
Ready to ring in the new year?
2020 was wild. Here's to 2021!